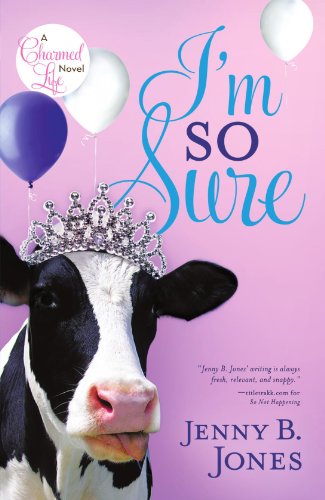 Publisher's Note:
Think you're having a rough week? Bella's stepdad, a semi-pro wrestler, just signed the entire family up for a reality TV show. Bella's first thought: Kill. Me. Now.
Living in Truman, Oklahoma wasn't 100% miserable for Bella. Sure, she misses Manhattan, couture clothes, and her dad. But she was making new friends at Truman High and almost enjoying her work at the school newspaper. Then the whole stepdad-wrestler-reality-show issue hit and her life is now being splashed across weekly tabloids and broadcast news.
As if having a camera crew following her around isn't bad enough, Bella soon discovers a conspiracy against the Truman High prom queen candidates. And the closer she gets to the answer, the more danger she's in.

As her relationship with Luke teeters between friendship and romance, Bella's ex-boyfriend Hunter reappears and vies for Bella's attention. Denying allegations of a love triangle, working to solve the prom queen mystery, and trying to keep her cool on national television finally motivate Bella to start talking--and listening--to God more.

But what comes next has Bella once again screaming: I'M. SO. SURE.
This book was sent to Compass Book Ratings for review by Thomas Nelson
I'm So Sure (The Charmed Life #2)
by Jenny B. Jones
Overall Review:
Written for young adults, I'm So Sure "brings out the Sharpay Evans" in several people. Prom is messy enough, but trying to mix boyfriends and "just friends" lands Bella in a world of trouble--or maybe she puts herself in a world of trouble. Dedicated to solving mysteries, she puts herself in dangerous situations, tempting fate and defying the local police.
Alongside the chaos, she learns to work together with her family and actually defends her stepfather on national television. She works with her stepbrother to help crack the case and beats up some bullies taunting her other sibling.
This book is about who really matters more than what really matters. Prom is just a dance, but the prom queen candidates are people, and Bella is determined to help them, no matter the cost. This book is number two in the series "A Charmed Life" by Jenny B. Jones and makes best sense when read in sequential order; however, it can stand alone as well.
Content Analysis:
Profanity/Language: 1 religious exclamation.
Violence/Gore: Two men wrestle multiple times; three characters beat up some bullies at school; a person tackled to the ground resulting in injury; 5 verbal threats; a car is maliciously driven off the road; a planted bomb explodes, endangering lives.
Sex/Nudity: Hugging; holding; jokes about Victoria's Secret underwear; jokes about having sex in a person's bedroom.
Mature Subject Matter:
Religion; Adoption; Robbery; Terminal Illness.
Alcohol / Drug Use:
***
Reviewed By Megan