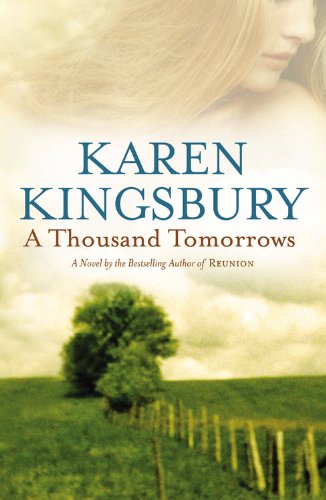 Publisher's Note:
Bestselling author Karen Kingsbury weaves a powerful story of a young couple whose love must face the ultimate challenge.
A Thousand Tomorrows
by Karen Kingsbury
Overall Review:
Hope is all we have sometimes, and for Ali Daniels this is certainly true. Every day she steps into the rodeo arena she comes one step closer to death. She also comes one step closer to love.
A Thousand Tomorrows is the story of a girl with Cystic Fibrosis and what her love does to change herself and those around her. Cody could not forgive his parents without Ali teaching him how to love and Ali could not survive long without Cody's love and willingness to help her in any way he can. This tear-jerker shows just how hard it is to live with a disease few people have heard of or know what the disease is. It is a journey for readers to know the nature of the beast as well as see the love that overcomes it as much as possible. There are parts of pure joy outside a small trailer, and moments of agony beside a small bed, but they all come together to produce a heart warming story. I would reccomend this book to anyone who is willing to open their hearts and see the beauty of the story being told.
Content Analysis:
Profanity/Language: ***
Violence/Gore: A man is bucked off of a bull; a woman recieves an organ transplant.
Sex/Nudity: Several kisses; husband and wife sleep together; girls at a bar sit on a male character's lap and flirt.
Mature Subject Matter:
Down Syndrome; Terminal Illlness; Abandonment; Death.
Alcohol / Drug Use:
Father drinks around the house; son drinks at bars frequently.
Reviewed By Megan