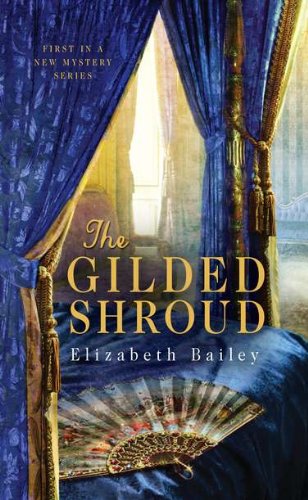 Publisher's Note:
First in a new series that has the perfect mix of Regency murder and mystery.
When the marchioness is found murdered at Polbrook mansion, the Dowager Lady Polbrook's new companion, Ottilia Draycott, finds herself in a house of strangers and every one of them a suspect. Only she can unmask and outwit a desperate killer and keep a Polbrook family secret buried.
The Gilded Shroud
by Elizabeth Bailey
Overall Review:
The Guilded Shroud by Elizabeth Bailey is a mystery set in England in the late 1700's. The author requires the reader to take a leap of plausibility in the very beginning-- that on day one of a new job, Ottilia Draycott's employers, without truly knowing her, would rely on her to solve their mystery, accept her into their inner confidences, and would not be offended by her curiosity. If the reader can make that leap, he or she can settle down nicely with a murder mystery. The pacing is even-handed and Bailey drives her story primarily through dialogue and the throughts of the protaganist, Mrs. Ottilia Draycott, a 30 year-old widow. Readers who like historical fiction and mysteries should find much to like in this story: the setting, the mystery, likable characters, well-rounded characters, and a sprinkling of romance tossed in for good measure!
Content Analysis:
Profanity/Language: 16 religious exclamations; 14 mild obscenities.
Violence/Gore: A murder occurs (1 sentence description of victim); the murder is subsquently discussed and reported to others several times throughout the book; in re-constructing the crime scene there are discussion speculating on how the murder played out and if a man forced himself on a woman; speculation on whether a husband beat his wife; a character is pushed down; another murder occurs.
Sex/Nudity: Woman referred to as a harlot; characters kiss and feel attraction to each other; a character sees a "flash of leg"; the occurrence/report of past affairs and unfaithfulness of characters is referred to several times; in re-constructing the crime scene it is speculated if a man forced himself on a woman and how the scene might have played out.
Mature Subject Matter:
Murder, Marital Problems/Seperation, Infidelity, Theft.
Alcohol / Drug Use:
Adults drink alcohol throughout (port, wine, etc.) with meals and sometimes at times of stress. One character suggests that a dosage of laudanum be administered, but it is not.
Reviewed By Cindy