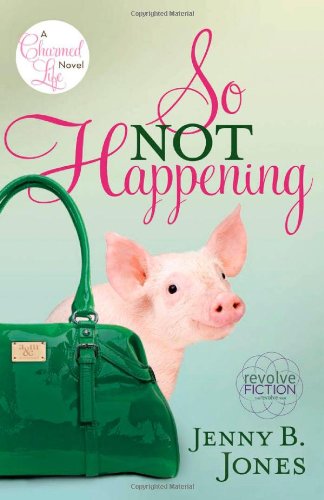 Publisher's Note:
New York's social darling just woke up in a nightmare: Oklahoma. Problem is, it's right where God wants her.
Bella Kirkwood had it all: A-list friends at her prestigious private school, Broadway in her backyard, and Daddy's MasterCard in her wallet. Then her father, a plastic surgeon to the stars, decided to trade her mother in for a newer model.
When Bella's mom falls in love with a man she met on the Internet--a factory worker with two bratty sons--Bella has to pack up and move in with her new family in Truman, Oklahoma. On a farm no less!
Forced to trade her uber-trendy NYC lifestyle for down-home charm, Bella feels like a pair of Rock & Republic jeans in a sea of Wranglers.
At least some of the people in her new high school are pretty cool. Especially the hunky football player who invites her to lunch. And maybe even the annoying--but kinda hot--editor of the school newspaper.
But before long, Bella smells something rotten in the town of Truman, and it's not just the cow pasture. With her savvy reporter's instincts, she is determined to find the story behind all the secrets.
How can a girl go on when her charmed life is gone and God appears to be giving her the total smackdown?
This book was sent to Compass Book Ratings for review by Thomas Nelson
So Not Happening (The Charmed Life #1)
by Jenny B. Jones
Overall Review:
Jenny B. Jones has crafted So Not Happening in a way that appeals to a young adult audience. She has portrayed through Bella the change teenagers go through as they grow older. Bella turns her entire life around, starting out as a pampered princess and ending as a more mature teenager. If you have ever moved you may be able to commiserate with Bella as she moves from New York to the middle of nowhere. However, even in Truman, Oklahoma things can get dangerous and being a reporter for the school newspaper places her in a world of danger where only the "Evil Editor" can help her out.
So Not Happening is a story of finding one's self in the most unexpected places and confronting the face of danger to become stronger and more mature. So Not Happening is book one in the series "A Charmed Life."
Content Analysis:
Profanity/Language: ***
Violence/Gore: Car crash; man falls off a cliff; one character pulls a gun on another character; teenager drugged in an attempt of murder; character is shot; fire is purposefully started on a house with people inside; a character is kidnapped; physical abuse in the form of slapping and a broken arm.
Sex/Nudity: Boy in only a towel; characters kiss; characters "make out"; one character holds another; making of feminine products.
Mature Subject Matter:
Suicide; Divorce; Murder; Menstration; Death; Kidnapping; Socioeconomic Conflict; Illegal Drugs; Underage Drinking.
Alcohol / Drug Use:
Woman is drugged in an attempt at murder; beer at teenage parties.
Reviewed By Megan