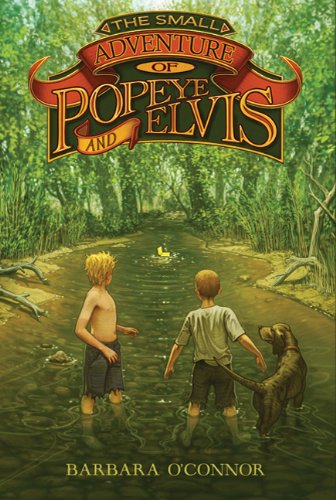 Publisher's Note:
Nothing ever happens in Fayette, South Carolina. That's what Popeye thinks, anyway. His whole life, everything has just been boring, boring, boring. But things start to look up when the Jewells' Holiday Rambler makes a wrong turn and gets stuck in the mud, trapping Elvis and his five rowdy siblings in Fayette for who knows how long. Then things get even better when something curious comes floating down the creek—a series of boats with secret messages—and Popeye and Elvis set out on a small adventure. Who could possibly be sending the notes and what do they mean?
The Small Adventure of Popeye and Elvis
by Barbara O'Connor
Overall Review:
The Small Adventure of Popeye and Elvis is a short, sweet read, perfect for a lazy summer afternoon. I enjoyed the wonderfully evocative setting, and Popeye and Elvis's adventures with the creek near Popeye's house brought back memories of my own childhood creek-following days! This is a fun, quick story for kids—and for adults who want a little peek back into their own childhoods.
Content Analysis:
Profanity/Language: Although no epithets are used, there are two or three references throughout the story to kids being members of a "spit 'n swear club."
Violence/Gore: A story is related about a child getting shot in the eye with a BB gun. Kids wrestle on three occasions. A grandmother "thumps" her grandchild for disobedience.
Sex/Nudity: None.
Mature Subject Matter:
Poor living conditions, deadbeat relatives.
Alcohol / Drug Use:
A mention is made to Indians smoking pipes.
Reviewed By CindyB