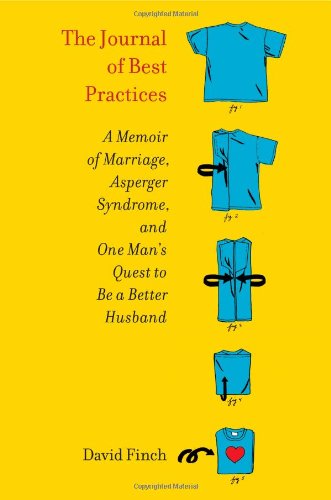 Publisher's Note:
At some point in nearly every marriage, a wife finds herself asking, What the @#!% is wrong with my husband?! In David Finch's case, this turns out to be an apt question. Five years after he married Kristen, the love of his life, they learn that he has Asperger syndrome. The diagnosis explains David's ever-growing list of quirks and compulsions, his lifelong propensity to quack and otherwise melt down in social exchanges, and his clinical-strength inflexibility. But it doesn't make him any easier to live with.
Determined to change, David sets out to understand Asperger syndrome and learn to be a better husband— no easy task for a guy whose inability to express himself rivals his two-year-old daughter's, who thinks his responsibility for laundry extends no further than throwing things in (or at) the hamper, and whose autism-spectrum condition makes seeing his wife's point of view a near impossibility.
Nevertheless, David devotes himself to improving his marriage with an endearing yet hilarious zeal that involves excessive note-taking, performance reviews, and most of all, the Journal of Best Practices: a collection of hundreds of maxims and hard-won epiphanies that result from self-reflection both comic and painful. They include "Don't change the radio station when she's singing along," "Apologies do not count when you shout them," and "Be her friend, first and always." Guided by the Journal of Best Practices, David transforms himself over the course of two years from the world's most trying husband to the husband who tries the hardest, the husband he'd always meant to be.
Filled with humor and surprising wisdom, The Journal of Best Practices is a candid story of ruthless self-improvement, a unique window into living with an autism-spectrum condition, and proof that a true heart can conquer all.
The Journal of Best Practices: A Memoir of Marriage, Asperger Syndrome, and One Man's Quest to Be a Better Husband
by David Finch
Overall Review:
The minute I finished reading it, I got up and sought out my husband. Handing it to him, I told him he had to read it. Men and women alike can glean insight into their marriage from this honest account of a man who determines he can improve himself and his marriage despite the fact that he has Asperger syndrome.
I don't want to give the impression that this is a dull work-on-your-relationship book. It is anything but. David Finch is an amazing storyteller that manages to interweave humor and heartbreak seamlessly throughout his memoir. The transformation that he achieves in his marriage is so interesting because he does it with the attitude of working solely on himself. He makes no demands on his wife, Kristen, except that she help him evaluate himself and his progress. Even those of us who are "neuro-typical" can learn a powerful lesson by reading about his journey and the wonderful results he achieved.
I would have given this book five stars if not for the language it contained as it really was distracting at times. But language aside, I loved it!
Content Analysis:
Profanity/Language: 20 religious exclamations; 15 mild obscenities; 1 religious profanity; 8 derogatory names; 25 scatological words; 25 anatomical terms; 1 offensive hand gesture; 32 F-word derivatives.
Violence/Gore: None
Sex/Nudity: One instance of a man and woman cuddling; eight sexual references.
Mature Subject Matter:
Co-habitation of an unmarried man and woman.
Alcohol / Drug Use:
Two adults drink wine; getting drunk mentioned twice; smokeless tobacco is mentioned; heroin addiction is referred to as part of a joke.
Reviewed By Ambra