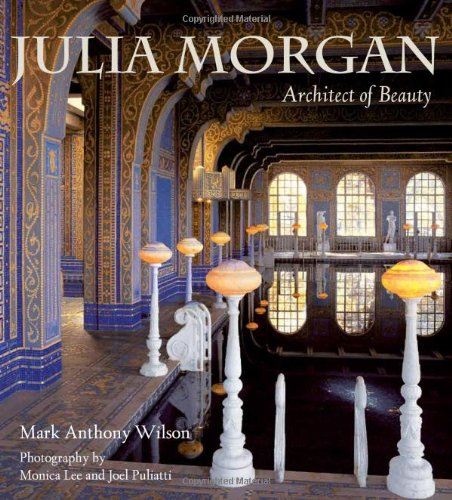 Publisher's Note:
Julia Morgan, America's first truly independent female architect, left a legacy of more than 700 buildings, many of which are now designated landmarks, in cities throughout California, as well as in Hawaii, Utah, and Illinois. Her work spanned five decades, and the total of her commissions was greater than any other major American architect, including Frank Lloyd Wright. Julia Morgan tells the remarkable story of this architectural pioneer, and features text, drawings, and photographs of the many buildings that still exist.
Mark Wilson has been writing and teaching about Julia Morgan's work for more than thirty years. He is an architectural historian who has written two previous books about Bay Area architecture and was a lecturer for the National Trust's Historic Real Estate Program. He holds a B.A. in history and an M.A. in history and media. His articles have appeared in the New York Times, Los Angeles Times, San Francisco Chronicle, Christian Science Monitor, USA Today, and more. He lives in Berkeley, California.
Coincides with California's Julia Morgan 2012 celebration.
This book was sent to Compass Book Ratings for review by Gibbs Smith
Julia Morgan: Architect of Beauty
by Mark Wilson
Overall Review:
Although primarily a "coffee table" book filled with absolutely gorgeous pictures, this book is chock full of interesting facts and information about the life and work of Julia Morgan, America's first truly independent, woman architect . I was immediately immersed in the fascinating history behind each of the buildings and the detailed descriptions regarding her use of local, natural materials complete with corresponding photos.
During her 45 year career as an architect Julia Morgan designed over 750 buildings, mostly in California and Hawaii and a good number of them are featured in this book. Julia Morgan is perhaps best known for her design of the Hearst Castle in all of its grandeur; however it was a pleasure to learn about and see many of her less publicized designs of private residences, churches, clubs and schools.
First exposed to her work many years ago, and living in an area where many of Julia Morgan's buildings are still in use, I've developed a great appreciation of her designs, but knew relatively little about her as a person. As an avid reader of biography's, I was completely fascinated by the many details of both her public and private lives and enjoyed the way her personal history was interwoven throughout the book with the history of her buildings and the motivation behind their designs.
This is a great read for anyone interested in architecture, and the photography is stunning.
Content Analysis:
Profanity/Language: None
Violence/Gore: None
Sex/Nudity: None
Mature Subject Matter:
***
Alcohol / Drug Use:
***
Reviewed By Sherel