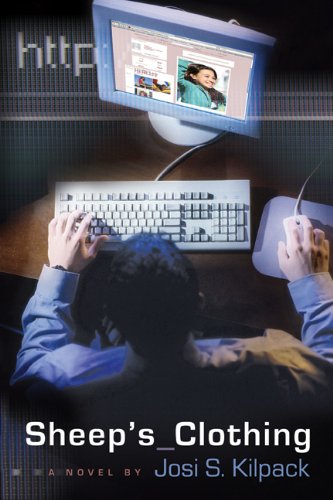 Publisher's Note:
Six children keep Kate Thompson busy. Her oldest daughter, Jess, is almost sixteen and acting the part--something Kate had hoped to avoid. Yet, she's quick to remind herself that it could be so much worse. Besides, there are more important things to worry about than adolescent moodiness, like convincing her husband that they're ready for one more baby. Jess gave up competing for attention at home a long time ago. But now, even her best friend doesn't seem to have time for her. Then Jess meets Emily online. Unlike everyone else in Jess's life, she can talk to Emily about anything. Emily understands her. Emily listens. When the unthinkable happens, and Jess disappears, Brad and Kate Thompson realize that they missed something--something big. How could this happen in their home? To their daughter? Most important, will Jess ever come home again?
Sheep's Clothing
by Josi S. Kilpack
Overall Review:
Most people can empathize when Jess feels like her best friend is ditching her for the popular crowd and her mom expects her to fit into a mold Jess has never wanted to be a part of. Jess feels alone, unwanted, unapreciated, and imperfect, and seeks for solace somewhere. However, Jess decides to run to the one person whose "help" places her in mortal danger.
This book mainly appeals to those who have had personal experiences with internet predators or want to see the psycology behind the action. Sheep's Clothing is a unique read for teenagers, young adults, and adults who may be interested.
Content Analysis:
Profanity: None
Violence/Gore: Physical abuse; reported murder; kidnapping.
Sex/Nudity: Attempted rape (brief - one sentence with description of fighting off attacker); a woman is examined by an OB-GYN.
Mature Subject Matter:
Death; Rape; Abuse; Illegal drugs; Online predators.
Alcohol / Drug Use:
A character is drugged to sleep.
Reviewed By Megan