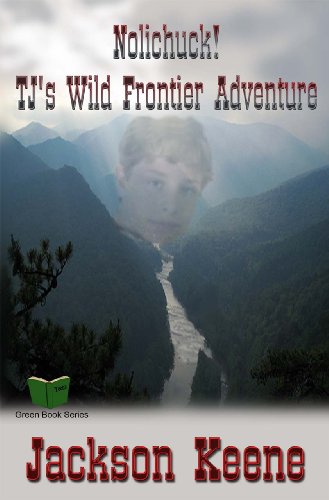 Publisher's Note:
TJ s just an ordinary fourteen year old kid with extraordinary problems at home and school: A broken up family from his parents bitter divorce, evil bullies almost every afternoon, failing grades, boring classes, snobby girls, mean teachers, cut from basketball tryouts, few friends. Life is rough for TJ Cockrell.
And then that mysterious little green book had to go and throw him into the past. And not just any past, but into the untamed forbidding forests of 1802 eastern Tennessee along with the savage Indians, wild beasts, bloodthirsty robbers, backwoods ruffians, and log cabin living! Yup, it s definitely not 2011 Knoxville anymore.

And he thought his present life was bad news! But TJ s adventures are only beginning. Along the way, he fights off killer beasts and bandits and braves, gains a world of confidence in himself, finds his first real love, and meets a fantastic frontier family who really has it together. When he returns to the present, he s a brand new person ready to defeat deadly robbers in his own home, beat the bullies at school, win the girl, gain friends, and make great grades. He even gets his family back together again. Sort of. In the end, the little green book is really cool. And TJ can t wait to go on another action-packed adventure into the perilous past!
This book was sent to Compass Book Ratings for review by Treble Heart Books
Nolichuck! TJ's Wild Frontier Adventure
by Jackson Keene
Overall Review:
TJ is a typical fourteen-year-old who struggles with divorced parents, frequent bullying and having difficulty with schoolwork. He especially dislikes his history class, which is a bit ironic as his father is a big historian. After a particularly difficult day, TJ is home alone when he finally discovers a secret that his father's been keeping for years. This discovery changes his life forever.
TJ is a well-developed character; you really sympathize with him during his struggles and rejoice when things go well for him. Nolichuck! TJ's Wild Frontier Adventure will especially be an interesting read for teens as they will probably be able to relate well to TJ's experiences. This was a well-written book and it had an interesting plot with some fun surprises. Nolichuck! TJ's Wild Frontier Adventure gets 4 stars!
Content Analysis:
Profanity/Language: 6 religioius exclamations; 15 mild obscenities; 2 religious profanities; 3 derogatory names; 4 scatalogical words; 5 anatomical terms.
Violence/Gore: There are several (19) brief incidents including fist fights and bullying; people dying in war and in other gun or knife fights; killing animals for food and self-defense purposes; robbers breaking and entering and killing. There are few (4) extended incidents including teenagers fighting; fighting between adults and teens involving guns and knives, resulting in death. Mention of a father abusing children and spouse (no details).
Sex/Nudity: There are few (15) brief incidents including hand holding; kissing; sexual innuendo; father providing sex education to son (just mentioned that it happened); attempted rape of a minor-aged character with clothes ripped and character "exposed" (brief with no explicit details).
Mature Subject Matter:
Spousal fighting; Divorce; Death of family in war; Death in childbirth; Death of parents; Child and Spouse abuse.
Alcohol / Drug Use:
Alcoholic parent (mentioned); adults smoking pipes; minors and adults drinking at a bar; minors drinking alcohol (usually diluted); adult chewing tobacco.
Reviewed By Jenny