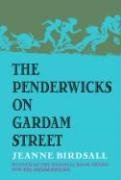 Publisher's Note:
THE PENDERWICK SISTERS are home on Gardam Street and ready for an adventure! But the adventure they get isn't quite what they had in mind. Mr. Penderwick's sister has decided it's time for him to start dating—and the girls know that can only mean one thing: disaster. Enter the Save-Daddy Plan—a plot so brilliant, so bold, so funny, that only the Penderwick girls could have come up with it. It's high jinks, big laughs, and loads of family warmth as the Penderwicks triumphantly return.
The Penderwicks On Gardam Street
by Jeanne Birdsall
Overall Review:
I enjoyed The Penderwicks on Gardam Street even more than its prequel, The Penderwicks. Rosalind, Skye, Jane, and Batty are as delightful and endearing as ever, and the stakes are higher in this new adventure! Gardam Street is filled with sly humor, madcap matchmaking, heart-pumping soccer matches, and plenty of "secret agent spy missions". Kids will enjoy the fun and funny adventures of the Penderwick sisters, and adults will enjoy untangling the story's many entertaining mysteries. The Penderwicks on Gardam Street is recommended for fans of the first book, but would also make a great stand-alone introduction to the Penderwick family. This is a terrific summer read for both children and adults!
Content Analysis:
Profanity/Language:
***
Violence/Gore: Children tackle an adult; a fight breaks out at a girls' soccer match.
Sex/Nudity: Although there are very few scenes of direct fliratation, one major storyline deals with an adult character dating, and another storyline deals with a subtly referenced crush between two preteens.
Mature Subject Matter:
Remarriage of parents
Alcohol / Drug Use:
***
Reviewed By CindyB