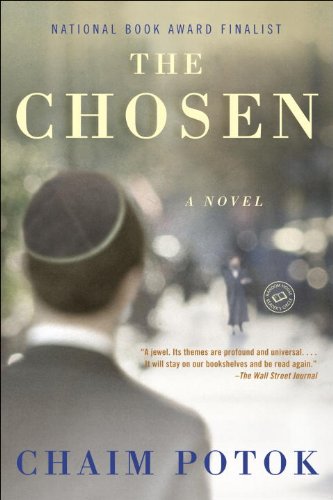 Publisher's Note:
Few stories offer more warmth, wisdom, or generosity than this tale of two boys, their fathers, their friendship, and the chaotic times in which they live. Though on the surface it explores religious faith--the intellectually committed as well as the passionately observant--the struggles addressed in The Chosen are familiar to families of all faiths and in all nations.

In 1940s Brooklyn, New York, an accident throws Reuven Malther and Danny Saunders together. Despite their differences (Reuven is a Modern Orthodox Jew with an intellectual, Zionist father; Danny is the brilliant son and rightful heir to a Hasidic rebbe), the young men form a deep, if unlikely, friendship. Together they negotiate adolescence, family conflicts, the crisis of faith engendered when Holocaust stories begin to emerge in the U.S., loss, love, and the journey to adulthood. The intellectual and spiritual clashes between fathers, between each son and his own father, and between the two young men, provide a unique backdrop for this exploration of fathers, sons, faith, loyalty, and, ultimately, the power of love.
The Chosen
by Chaim Potok
Overall Review:
"Merely to live, merely to exist—what sense is there in that? A fly also lives!" So states the father of Reuven Malter, a young jewish boy in America. In The Chosen we meet Reuven and Danny Saunders: Two boys who couldn't be more different. They are both Jewish, but the similarities stop there. They become friends over an accident. Danny hits Reuven in the face with a baseball during a game. Reuven's glasses shatter into his eye, and from that moment on, life changes its course. Reuven's eyes are literally and figuratively opened as he sees everything in a new light. This is, of course, one of the important side effects of traumatic experiences—we are torn away from our old point of view and comfort zone, and given new ideas, experiences and friendships. Danny comes to the hospital to apologize and the boys become fast friends. It is an unlikely friendship from the beginning, but they are so good for each other—balancing their ideas and personalities to perfection. I loved following Danny and Reuven through their formative years, watching them make decisions that were difficult; waking up to what life really has to offer and finding the strength to follow their own dreams. They go through so many emotions, disillusionments, and learning experiences. They both have amazing minds and intellects. The book overall is astounding. The scope of information presented is huge—yet it is also intricate, well researched, and delicately complex. We learn amazing things about WWII from a totally different perspective. There is some fascinating information presented on Jewish history, customs, and beliefs. It never feels like a textbook or an encyclopedia, though. The story is poignant and flows with expert ease. The Chosen is a coming of age story that reminds us to wake up, to live life to the fullest, to open our eyes and see what can't be seen…to Listen to the unspoken silence.
Content Analysis:
At the very beginning of the book, there is a baseball game between two groups of young men. During this game, there is quite a bit of 'religious' profanity. Every once in a while, another word is sprinkled in here and there, but it is never as concentrated as during the ball game.
There is some violence, but it really is handled very low-key for the content that is dealt with. A character is hit in the face with a baseball and his glasses shatter into his eye (he's eventually fine). There are some references to boxing and the effects of serious fights (losing eyes, etc.). There are many fistfights and a lot of anger and hatred at times.

Also, there are many mentions of WWII, and subsequently we read a lot about the death toll of certain battles as well as seeing the desolation of post-holocaust life of the American Jews. Other smaller wars, skirmishes and battles are also mentioned along with many terrorist acts. Many people are killed in battles, hangings, bombings, etc. This is all told as hearsay as the main characters are not in the heat of the action.
Mature Subject Matter:
A younger audience may not enjoy this book due mostly to the more adult themes of raising children, making serious life/religious choices, deep friendships, and the effects of war, but all of these themes are lovingly handled
Alcohol / Drug Use:
***
Reviewed By Emily