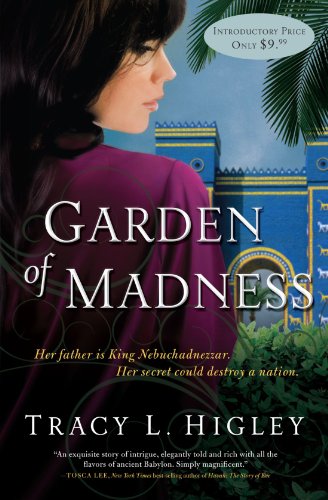 Publisher's Note:
The untold story of King Nebuchadnezzar's daughter
For seven years the Babylonian princess Tiamat has waited for the mad king Nebuchadnezzar to return to his family and to his kingdom. Driven from his throne to live as a beast, he prowls his luxurious Hanging Gardens, secreted away from the world.
Since her treaty marriage at a young age, Tia has lived an opulent yet oppressive life in the palace. But her husband has since died and she relishes her newfound independence. When a nobleman is found murdered in the palace, Tia must discover who is responsible for the macabre death, even if her own freedom is threatened.
As the queen plans to wed Tia to yet another prince, the powerful mage Shadir plots to expose the family's secret and set his own man on the throne. Tia enlists the help of a reluctant Jewish captive, her late husband's brother Pedaiah, who challenges her notions of the gods even as he opens her heart to both truth and love.
In a time when few gave their hearts to Yahweh, Tia must decide if she is willing to risk everything-her possessions, her gods, and her very life-for the Israelites' one God. Madness, sorcery, and sinister plots mingle like an alchemist's deadly potion as Tia chooses whether to risk all to save the kingdom-and her family.
This book was sent to Compass Book Ratings for review by Thomas Nelson
Garden of Madness
by Tracy L. Higley
Overall Review:
Garden of Madness is an exotic, well-crafted story about famous King Nebuchadnezzar and his fiery daughter Tia. The book's rapid pacing, mixed with the ever constant threat of danger to the characters, made for a quick and enjoyable read.
Higley establishes a fascinating and detailed Babylon that held my attention and stirred my imagination. The plot blends fact and fiction, with the biblical prophet Daniel as a main character. I thoroughly enjoyed Garden of Madness and loved learning about this important historical time period.
Content Analysis:
Profanity/Language: ***
Violence/Gore: A character is verbally threatened; a character is slapped by her mother (two times); a character is hit by her father; in a non-detailed scene, soldiers kill accused traitors by sword; a body is discovered mutilated, with blood and gore (two times); a man is killed by soldiers.
Sex/Nudity: Kissing occurs a few times; a character is bathed by servants; sexual references are made in regards to the king's harem, a wedding night, and an illegitimate child. It is reported that a woman was raped years ago and a child was conceived.
Mature Subject Matter:
God and religion; love; murder; sorcery.
Alcohol / Drug Use:
Wine is drunk by most characters.
Reviewed By Rachel