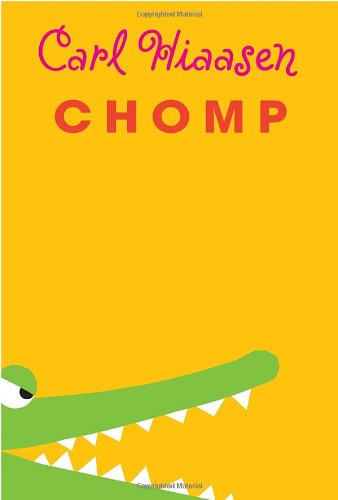 Publisher's Note:
Wahoo Cray lives in a zoo. His father is an animal wrangler, so he's grown up with all manner of gators, snakes, parrots, rats, monkeys, snappers, and more in his backyard. The critters he can handle. His father is the unpredictable one.

When his dad takes a job with a reality TV show called "Expedition Survival!", Wahoo figures he'll have to do a bit of wrangling himself—to keep his dad from killing Derek Badger, the show's boneheaded star, before the shoot is over. But the job keeps getting more complicated. Derek Badger seems to actually believe his PR and insists on using wild animals for his stunts. And Wahoo's acquired a shadow named Tuna—a girl who's sporting a shiner courtesy of her old man and needs a place to hide out.

They've only been on location in the Everglades for a day before Derek gets bitten by a bat and goes missing in a storm. Search parties head out and promptly get lost themselves. And then Tuna's dad shows up with a gun . . .

It's anyone's guess who will actually survive "Expedition Survival". . . .
Chomp
by Carl Hiaasen
Overall Review:
"Mickey Cray had been out of work ever since a dead iguana fell from a palm tree and hit him on the head."
Thus begins Chomp by Carl Hiaasen. Chomp is Carl Hiaasen's fourth book for children and like the first three books it is set in Florida. However, in this book he diverges a bit from the pattern of the previous books. His previous books had a strong ecological/animal preservation theme and while this book has animals aplenty, Chomp is more of an action-y adventure story in a nature setting. The divergence is refreshing and keeps the story from becoming too predictable. The buffoon antics of a television actor are a bit tiresome and the characters are mostly one-dimensional, but it is still a smooth read thanks to Hiassen's top-notch, rapid-fire dialogue and tongue-in-cheek humor. Young readers who loved his previous books will not be disappointed!
Content Analysis:
Profanity/Language: 3 religious exclamations; 3 mild obscenities; 3 anatomical terms.
Violence/Gore: An object falls on a character's head resulting in injury; report of an animal biting off a finger; report of snake bites; python tries to eat a person (told in humorous manner); an animal bites a character's nose; report of various injuries during filming; report of a father hitting a girl and the girl reports she hit him back; an animal bites a character's tongue; a boat crash; a character is shot in the shoulder and brief description of wound treatment; report of a stick-up and robbery; a character is shot and wounded; characters tackle/struggle; a character bites another character's neck (told humorously).
Sex/Nudity: A man is only in his boxers.
Mature Subject Matter:
Child/spouse abuse, disability, financial hardship, unemployment.
Alcohol / Drug Use:
An adult character is a drunk and drinks beer frequently.
Reviewed By Cindy