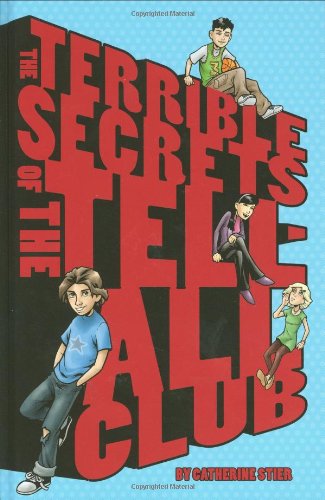 Publisher's Note:
No one at school had ever thought up a club like this. All you had to do to be in it was answer some questions and share them with the rest of the club. Questions like: What is your favorite salad dressing? Who is your BFF? What was your most embarrassing moment? There were plenty of reasons to be in the Tell-All Club. Kiley, T.J., Josh, and Anne each had a different motivation: One of them wanted to fit in, one wanted revenge, one had something to hide, and one of them was dying to find out another's secret. Told in four different viewpoints, this funny, touching novel explores friendship, social pressures, bullying, and other anxieties of 'tween girls and boys alike.
This book was sent to Compass Book Ratings for review by Albert Whitman & Co.
The Terrible Secrets of the Tell-All Club
by Catherine Stier
Overall Review:
Every adult who has lived through 10-12-year-olds and who reads The Terrible Secrets of the Tell-All Club by Catherine Stier will say: This is soooo fifth grade! Every kid who reads it will laugh and eagerly await the next mess caused by the four main characters, Kiley, T.J., Anne, and Josh. These pre-teens have trouble fitting in and being accepted. They don't trust their own friends to accept them for who they are. In fact, they don't even know who they themselves really are. This is a perfect set-up for confusion and misunderstanding and Ms. Stier does a great job getting each one in trouble with the other. To her credit as a children's author, she provides reasonable and believable methods to untangle the castrophe they have created. Her format is simple and and flows smoothly from one short chapter to the next. The shortness of each chapter is a definite aid to building excitement for the next problem that will worsen the situation. Another technique that works well to keep interest and set the pace is the use of the chapter titles. The story begins with 50 questions. The answers have to be shared with all the club members. Ms. Stier uses these questions randomly to head the chapters so the action is always based on the questions. In summary, the characters are likeable and realistic, the misunderstandings are humorous with a touch of sadness at times, the format strengthens the plot, and it was just plain fun to read.
Content Analysis:
Profanity/Language: None
Violence/Gore: Older sibling is a bully; siblings tussle; older sibling destroys a younger student's school project.
Sex/Nudity: None
Mature Subject Matter:
Relationships between girls and boys; being true to show you are.
Alcohol / Drug Use:
None
Reviewed By Marilyn