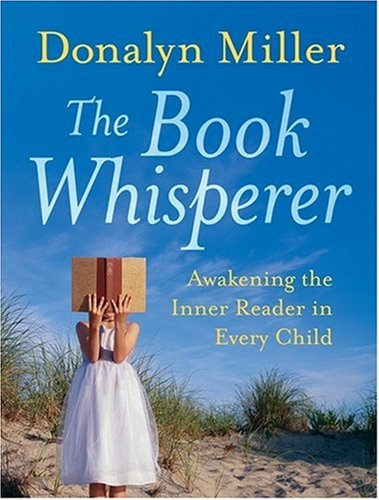 Publisher's Note:
Donalyn Miller says she has yet to meet a child she couldn't turn into a reader. No matter how far behind Miller's students might be when they reach her 6th grade classroom, they end up reading an average of 40 to 50 books a year. Miller's unconventional approach dispenses with drills and worksheets that make reading a chore. Instead, she helps students navigate the world of literature and gives them time to read books they pick out themselves. Her love of books and teaching is both infectious and inspiring. The book includes a dynamite list of recommended "kid lit" that helps parents and teachers find the books that students really like to read.
The Book Whisperer
by Donalyn Miller
Overall Review:
This book gives me hope that we can raise a new generation of readers! Donalyn Miller is amazing. The great part about her philosophy is that it can easily be adopted--it's not a pie-in-the-sky program that takes money or extensive skills to promote--just a love of reading.
Teachers' lives will be changed by this book, as will their students'. Parents will learn to advocate more strongly for free reading in their children's schools, and will see the benefit of encouraging their children to read what they enjoy. The Book Whisperer was recommended to me by a parent who couldn't say enough good about it, and now I understand why.
I'm so glad I read this book--both as a teacher and a parent. It validated my beliefs about why I'm a lifelong reader, and helped me recognize that I can continue to empower others to become lifelong readers.
Content Analysis:
Profanity/Language: 2 religious exclamations
Violence/Gore: None
Sex/Nudity: None
Mature Subject Matter:
***
Alcohol / Drug Use:
***
Reviewed By Leslie