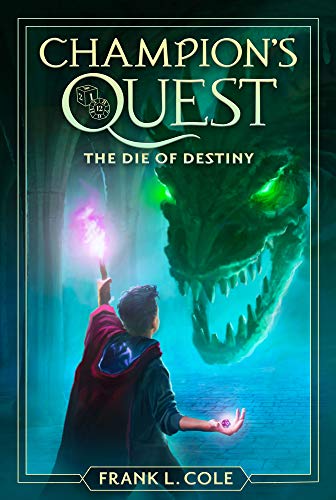 Publisher's Note:
Lucas Silver's life is about to change. He thinks it's because he's made plans to escape from his foster home and make his way to New York, but then he and his friend Miles and two girls they're acquainted with?Jasmine and Vanessa?find Hob and Bogie's Curiosity Shoppe and agree to play a game of Champion's Quest.

When the four kids walk out the front door of the Curiosity Shoppe, they immediately discover they're no longer in West Virginia, but transported into the game and a wild fantasy world of dangerous goblins, brutish ogres, and a powerful witch.

They must work together as a team, overcome their real-world weaknesses, and believe in themselves and each other if they are to outwit, outplay, and survive their foes in this ultimate quest to defeat a treacherous monster.
This book was sent to Compass Book Ratings for review by Shadow Mountain
Champion's Quest: The Die of Destiny
by Frank L. Cole
Overall Review:
From the moment Champion's Quest: The Die of Destiny arrived in the mail, my teen and tween boys were dying to get their hands on it. I began reading the first few chapters with them and they were highly disappointed when bedtime arrived. Continuing the book on my own, I hoped it would live up to our expectations and was not disappointed in the least.
The four main characters are an unlikely group who seem to have little in common and will struggle to be successful in accomplishing any great feats. You'll enjoy watching each character face his or her fears and learn to work together. As the story is about characters getting pulled into a role-playing game, those who enjoy that type of game will especially love this book but anyone who likes a story replete with action will as well. Author Frank L. Cole's amazing imagination and descriptions make you feel as if you've joined the game right along with the characters in the book. Parents will appreciate the clever way he handles the battles as he keeps it from being too much for younger readers, yet still enjoyable for older ones. Full of suspense, adventure, and humor, Cole delivered a fantastic novel that readers will be happy to know is going to be a series.
Content Analysis:
Profanity/Language: None
Violence/Gore: Many (42) non-graphic brief incidents including characters wanting to hurt self or others; characters being told how they could get hurt; characters planning to defeat others; verbal threats; references to young characters' parents dying; references to battles; non-graphic fighting with magical characters; battles with human and animal characters. One extended battle.
Sex/Nudity: None
Mature Subject Matter:
Anxiety; characters are orphans.
Alcohol / Drug Use:
Sandwich looks like a cigar.
Reviewed By Jenny