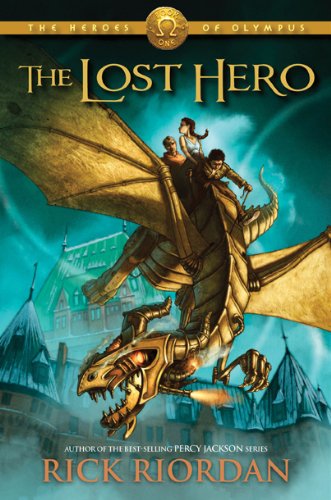 Publisher's Note:
Jason has a problem. He doesn't remember anything before waking up on a school bus holding hands with a girl. Apparently she's his girlfriend Piper, his best friend is a kid named Leo, and they're all students in the Wilderness School, a boarding school for "bad kids." What he did to end up here, Jason has no idea—except that everything seems very wrong.

Piper has a secret. Her father has been missing for three days, and her vivid nightmares reveal that he's in terrible danger. Now her boyfriend doesn't recognize her, and when a freak storm and strange creatures attack during a school field trip, she, Jason, and Leo are whisked away to someplace called Camp Half-Blood. What is going on?

Leo has a way with tools. His new cabin at Camp Half-Blood is filled with them. Seriously, the place beats Wilderness School hands down, with its weapons training, monsters, and fine-looking girls. What's troubling is the curse everyone keeps talking about, and that a camper's gone missing. Weirdest of all, his bunkmates insist they are all—including Leo—related to a god.

Rick Riordan, the best-selling author of the Percy Jackson series, pumps up the action and suspense in The Lost Hero, the first book in The Heroes of Olympus series. Fans of demi-gods, prophesies, and quests will be left breathless--and panting for Book Two.
The Lost Hero
by Rick Riordan
Overall Review:
The Lost Hero is the first book in the Heroes of Olympus series by Rick Riordan. This new series is a companion to the Percy Jackson series and while some of the characters cross-over, the focus is on a new trio of protaganists: Jason, Piper, and Leo. The fact that this book continues to top the New York Times Best Seller list is no accident. First, Riordan's prose flows and he nails the dialogue and vernacular of contemporary teenagers. Second, the myths, magic, mysterious events, and adventure are compelling. Third, Riordan invests time in character development, fleshing out some likeable characters from a variety of backgrounds. (However, at times this is a two-edged sword, as it often leads to repetition--one of the book's few short-comings.) Fourth, Riordan loads the book with balanced humor and comic relief through characterization and dialogue.
Mild language and non-graphic violence make this book accessible to young readers (fourth and fifth grade), but the older ages of the protanists (15 and 16 years old) give this book upwards demographic breadth. This is what fiction is supposed to be!
Content Analysis:
Profanity/Language: 18 religious exclamations
Violence/Gore: Several reports/references to previous battles and deaths; a few recountings of Greek myths that involved death and other forms of violence; a battle between mythical creatures and characters involving swords, magic, etc.; characters fall from a great height resulting in an injury; a battle with mythical creatures involving bashing and disintegration; a battle with mythical creatures involving swords, fire, poison, explosions; two characters fight with sword and javelin(no injury or death); many threats of death are made against characters; characters are deliberately dropped from a great height (no injury occurs); two extended battle scenes involving mythical creatures with axe, bashing, fire, disintegration, sword, and mention of golden blood of mythical creature; a character is threatened with a knife.
Sex/Nudity: Characters cuddle for warmth; a character has a dream about kissing another character; a few references to characters being "hot" or wanting to kiss another character.
Many characters are demi-gods and although this is mentioned it is never discussed in detail.
Mature Subject Matter:
Parental Abandonment, Death of Family Members, War, Loyalty.
Alcohol / Drug Use:
Reference to an adult with a drinking problem. A magical potion is administered to a character.
Reviewed By Cindy