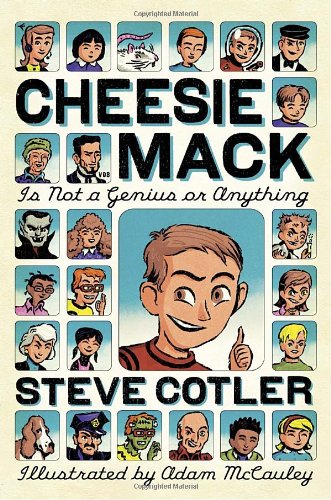 Publisher's Note:
Ronald "Cheesie" Mack is not a genius or anything, but he remembers everything that happened before, during, and after fifth-grade graduation, and he's written it all down in his own unique and hilarious way—with lots of lists, drawings, and splenderful (that's splendid plus wonderful!) made-up words. Cheesie—with a little help from Steve Cotler—writes about family, friendship, and tough choices in an unforgettable voice that will have kids laughing out loud. Readers of Diary of a Wimpy Kid will love both the clever humor and the black-and-white illustrations throughout.
This book was sent to Compass Book Ratings for review by Yearling (A Random House Children's Imprint)
Cheesie Mack Is Not a Genius or Anything
by Steve Cotler
Overall Review:
Entering the personal meanderings of a ten year-old boy has never been more fun and endearing. Cheesie Mack is a bright, energetic boy who has a knack for filling water balloons with chocolate pudding (yet not being culpable), counting points, and making up "aweriffic" new words (I was inspired by Cheesie to make that one up myself!) I was also pleasantly surprised to find that Cheesie is a dedicated friend, and ultimately finds the courage to be honest, even when his best friend and his trip to summer camp hang in the balance. The book has a neat companion website, where readers can interact with Cheesie and answer questions given throughout the book (I even visited and left some answers!) Filled with the types of adventures that I actually hope my own children will find, "Cheesie Mack" hits home with the experiences of fifth-graders everywhere (and I think that the fifth-grader's Moms will enjoy it, too!)
Content Analysis:
While I can recommend this book as a squeaky clean read, parents should be aware that it DOES have boy-humor in it! Just imagine the things a ten-year old does, and that's about what you'll find in this book: burping contests, a never-ending point battle with his mean older sister, one mention of a character who "dog-pooped" someone's bike seat, and plans (never realized) for how to disturb their 5th grade graduation (letting mice go free, pretend to throw up, etc).
Cheesie's Dad has Cheesie and his older sister remove their pants and show him the back of their underwear (to see if either of them had a red stain from stolen, wet tickets, and therefore guilty). But this was very innocently done, with no worrisome details or description, pretty straight-forward and about as bad as my sentence explaining the scene.
All in all, this book was VERY mild, with no real content concerns. I only mention the above things because it might give your son/daughter some creative and interesting ideas...:)
Mature Subject Matter:
***
Alcohol / Drug Use:
***
Reviewed By Melissa