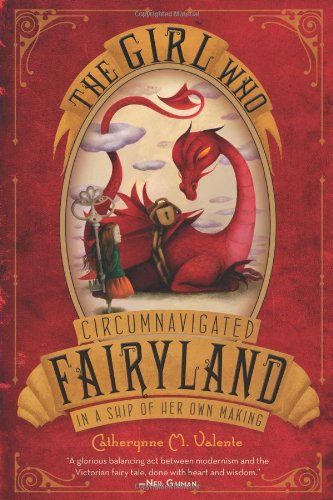 Publisher's Note:
Twelve-year-old September lives in Omaha, and used to have an ordinary life, until her father went to war and her mother went to work. One day, September is met at her kitchen window by a Green Wind (taking the form of a gentleman in a green jacket), who invites her on an adventure, implying that her help is needed in Fairyland. The new Marquess is unpredictable and fickle, and also not much older than September. Only September can retrieve a talisman the Marquess wants from the enchanted woods, and if she doesn't . . . then the Marquess will make life impossible for the inhabitants of Fairyland. September is already making new friends, including a book-loving Wyvern and a mysterious boy named Saturday.
With exquisite illustrations by acclaimed artist Ana Juan, Fairyland lives up to the sensation it created when the author first posted it online. For readers of all ages who love the charm of Alice in Wonderland and the soul of The Golden Compass, here is a reading experience unto itself: unforgettable, and so very beautiful.
The Girl Who Circumnavigated Fairyland In A Ship Of Her Own Making
by Catherynne M. Valente
Overall Review:
Paying homage to traditional fairytales as well as many classic works of children's literature like The Wonderful Wizard Of Oz and The Lion, The Witch, and the Wardrobe, The Girl Who Circumnaviaged Fairyland is a strange and fantastic story of magic, adventures, choices, and what it is like to be a child. It's also a love letter to books, words, and stories of all sorts. From the moment the Green Wind first appeared at September's window, I was drawn in by the beauty and delightfulness of Catherynne Valente's language, and by the sly humor and subtle references to some of my favorite childhood stories throughout the novel. This book is one of those rare and precious stories that really manages to have it all—it's strange, quirky, and hilarious, with plenty of sideways allusions to both classic literature and the oddities of our modern world, but it is also surprisingly deep and full of heart, with some astonishingly profound observations. The Girl Who Circumnavigated Fairyland really is a book that brought me to both laughter and tears, and left me feeling completely satisfied when I had finished it. Valente's language is rich, witty, and beautiful; I found myself reading certain passages over again just to enjoy their cleverness and wonderful language. The characters and setting of the novel are also rich and complex; just when you think you have them figured out, they display unexpected depth and heart. This is a book that I can imagine reading over and over again throughout my lifetime.

Although written as a children's book, The Girl Who Circumnavigated Fairlyand is one of those rare books that would be equally perfect for children and adults. As I read it, I could imagine my twelve-year-old self delighting in the whimsy and adventure of the story—but as an adult, I also loved the beautiful depiction of the wonder and magic of childhood, and many of September's encounters resonated deeply with me in ways that they wouldn't have when I was a child. The Girl Who Circumnavigated Fairyland is highly recommended to children who love a good adventure, and to adults who remember what it was like to be a child. This book is not quite like any that I've ever read before, but I can't recommend it highly enough!
Content Analysis:
Profanity/Language: None
Violence/Gore: This book is hard to classify in terms of violence. Like many traditional fairy tales and works of classic children's literature, the overtones of this book are serious, and much of the culture and landscape of Fairyland is wild, and the villain of the story can be quite cruel. However, the incidents of violence themselves are usually very fantastical in nature, and never graphic or gory. It is a book I wouldn't hesitate to give to a preteen, but it is also not a "fluffy" read.
Throughout the story, references are made to murder and cruelty by an evil character. Several characters are captured and imprisoned. A reference is made to a race of fantasy creatures who are imprisoned and made to fight in order to access their magic. A character makes threats against other characters. A conversation is had about treatment of animals and whether or not it is okay to use violence against them. A very brief story is told about a boy whose "brothers betrayed him and cut him all up" (no further detail is given and the story ends happily). Lions attack characters (the scene is brief and not graphic). A character is captured and thrown down a well. A girl says that she was beaten by her father for disobedience. Two characters wrestle and both are hurt (the scene is emotionally intense but not graphic).
Sex/Nudity: A girl disrobes for a bath. A group of fantasy creatures are described as being naked except for their armor (no detail or description is given). A girl must build a ship and, without any other resources, uses her dress as a sail.
Mature Subject Matter:
Courage to do difficult things, subtle references to World War I, a story with a somewhat abusive father.
Alcohol / Drug Use:
Children are given magical beer to drink at a party. An adult smokes a magical cigarette. A reference is made to a character's father being an alcoholic.
Reviewed By CindyB