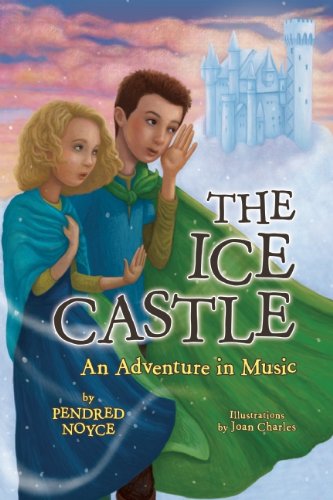 Publisher's Note:
The return to Lexicon begins when thirteen-year-old cousins Ivan and Daphne find their Aunt Adelaide deathly ill. Leaving their aunt to rest, Ivan and Daphne accidentally let their younger cousin, Lila, in on their secret world of Lexicon.

Ivan and Daphne must track Lila, who disappears, through the frozen landscape to the Land of Winter where social status and freedom is determined by how well one sings. Fortunately for Lila, her musical talent lands her in the most favorable place. Separated by class now, the cousins face the cold, hunger, poverty, illness, injustice, and the malicious plotting of a power-hungry blind man. Slave, servant, and fine lady, the three cousins must escape their own imprisonment before they reunite, provoke a revolution, and restore spring to the Land of Winter.
This book was sent to Compass Book Ratings for review by Scarletta Press
The Ice Castle: An Adventure in Music
by Pendred Noyce
Overall Review:
THE ICE CASTLE, the second book in the Lexicon Adventures series, has many necessary ingredients that would entice young readers, i.e. adventure, fantasy, family member who don't get along, social commentary and a unique emphasis on music. The main characters--Ivan, Daphne and Lila--are cousins that don't always like each other. When they enter the Land of Winter, they soon learn they have to depend on and forgive each other to survive illness, poverty and injustice. Besides these three individuals, there are many interesting characters, each with their own story to weave into the plot--even a sinister criminal who doesn't realize he is using the wrong words to sound threatening--a needed touch of humor. The author uses music to create a social atmosphere of the haves and the have-nots; and even though music is the source of the problem, it is also the solution. Young adults will recognize that it reflects the real world they live in and will be able to see the social implications. Ms. Noyle has used musical terms as names of people and places, i.e. Allegra, Melodia, Sister Glissandra, Capella. The passage of days is figured in octaves and leaves have different tones; there are directions for learning musical scales and inventing a new instrument. There is an added bonus provided in the back of the book. It includes discussion questions, music challenge activities, and a website for further activities.
Content Analysis:
Profanity/Language: None
Violence/Gore: There are scenes of hand to hand fighting; there is an attempted poisoning.
Sex/Nudity: None
Mature Subject Matter:
Family relationships, social inequality, poverty, illness, revolution, hunger.
Alcohol / Drug Use:
None
Reviewed By Marilyn