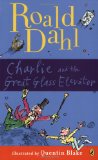 Publisher's Note:
Last seen flying through the sky in a giant elevator in Charlie and the Chocolate Factory, Charlie Bucket is back for another adventure. When the giant elevator picks up speed, Charlie, Willy Wonka, and the gang are sent hurtling through space and time. Visiting the world's first space hotel, battling the dreaded Vermicious Knids, and saving the world are only a few stops along this remarkable, intergalactic joyride.
Charlie and the Great Glass Elevator
by Roald Dahl
Overall Review:
"Great whistling whangdoodles!" What do you do when you find yourself staring down a Vermicious Knid? Or you've taken too much Wonka-Vite and ended up in Minusland? Or perhaps you just want to have a little chat in Martian with the President of the United States while standing in a giant Space Hotel? You call up Willy Wonka, of course! Who else can think of these things but Roald Dahl? In this second installment of his famous Charlie and the Chocolate Factory, we get to ride along with Charlie and his whole family (including the bed!) as Mr. Wonka gives them the ride of their lives in his amazing Glass Elevator! Roald Dahl's humor and imagination are magnificently twisted and appeal to children and adults alike. You can't help but laugh out loud at times and ask yourself, "Where did he come up with this???" I love the Oompa Loompa songs that are funny and still teach a lesson. And if my children were excited and decided to copy Mr. Wonka's exclamations of joy, I would be ok with that!
Content Analysis:
There were a few minor swear words. Less than 5, I think. Some characters are pretty cranky and call others many creative names, but mostly it was funny and didn't involve crude 'potty' humor.
The only violence had to do with some space creatures eating people and attacking ships, but it wasn't graphic.
There is no sexual content at all.
Mature Subject Matter:
As far as mature themes, the segments with the space creatures may be frightening and intense to younger people (although, my four year old thought that was his favorite part). Really quite an enjoyable book and clean enough to read out loud with my kids!
Alcohol / Drug Use:
***
Reviewed By Emily