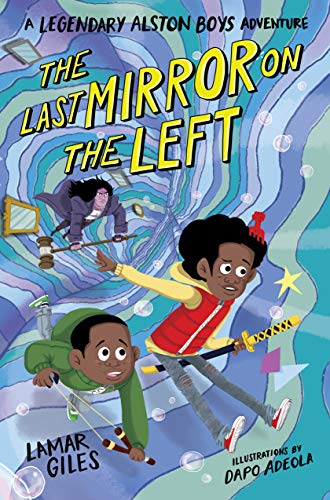 Publisher's Note:
In this new Legendary Alston Boys adventure from Edgar-nominated author Lamar Giles, Otto and Sheed must embark on their most dangerous journey yet, bringing a fugitive to justice in a world that mirrors their own but has its own rules to play by.

Unlike the majority of Logan County's residents, Missus Nedraw of the Rorrim Mirror Emporium remembers the time freeze from The Last Last-Day-of-Summer, and how Otto and Sheed took her mirrors without permission in order to fix their mess. Usually that's an unforgivable offense, punishable by a million-year sentence. However, she's willing to overlook the cousins'
misdeeds if they help her with a problem of her own. One of her worst prisoners has escaped, and only the Legendary Alston Boys of Logan County can help bring the fugitive to justice.

This funny and off-the-wall adventure is perfect for readers of Jonathan Auxier and Lemony Snicket.
This book was sent to Compass Book Ratings for review by Versify
The Last Mirror on the Left (A Legendary Alston Boys Adventure)
by Lamar Giles
Overall Review:
Otto and Sheed are called back into action. As Logan County's top crime fighters, it's no suprise when Missus Nedraw contacts them, although how she does it opens a whole new world to them.
As cousins, Otto and Sheed don't always see eye to eye and in the end, they often act like siblings. Otto is thoughtful and loves knowledge, taking notes, and being observant of facts. Sheed is an immediate man of action who sometimes acts before thinking. Together they make a good team because they can see both sides of a situation. In this book, several things happen to cause Sheed and Otto to question whether they have the skills to fix the things that are going wrong. They face people and places they never imagined possible and, in the end, they realize they do make a good team after all and working together is their best option.
The author, Lamar Giles, has created a fantastic world that could only happen in the imagination but is so well described and played out that it seems real in the midst of the story. The fantastic details combined with a little bit of villainy and paradox makes this book suspenseful and fun to read. In this high stake game of cat and mouse, Otto and Sheed realize that friends come in many shapes and sizes and most importantly, sometimes the oddest characters have the most to teach them. There are several characters involved in this book and all together they make this story an animated place to be. It is truly a fun vacation for the mind. This book could be a good read for those who enjoy an adventure story. The Last Last-Day-of-Summer is the first book in this series and is also well worth the time to read. Lamar Giles has written at least nine books but these two books look like the first for his younger readers.
Content Analysis:
Profanity/Language: None
Violence/Gore: 1 boy punches another boy in the chest, no damage; 2 boys are captured by huge spiders and imagine what will happen to them; a little girl jumps off a swing and disappears; like a superhero, a man bursts into flames but is unharmed; a mention that it will be tough to get a saw through somebodies bones because they are so tough; mention that some friends will look for 2 boys even if they don't survive because it would be a waste to let good parts go to waste; a boy punches another boy; a boy is distraught because he has information from the future that his friend will die, cause unknown; a boy is transformed into a walking skeleton because he believes he will die; in frustration, a woman keeps hitting her head on a wall; a boy is transformed into a boy made of rock because he is hardening his heart over an issue that may not even happen; a personified animal is throwing other personified animals to the side, no harm to any of them; a fight between other personified animals, no harm to any of them; a few adults fight each other, 2 boys, and serveral personified animals in several scenes, no harm to any of them, descriptive of the fights and punches but not of physical harm.
Sex/Nudity: A boy uses a sword to cut off the bottom half of an adult personified animal's robe leaving his naked and furry butt exposed, he is embarrassed, non-sexual.
Mature Subject Matter:
A predicted future illness of a child, implied loss of parents, injustice, people wrongly imprisoned.
Alcohol / Drug Use:
A fictional, creative medicine is used to cure a boy, administered by a doctor although his young friend was intiially going to use it on him regardless of the doctor's advice.
Reviewed By Beth