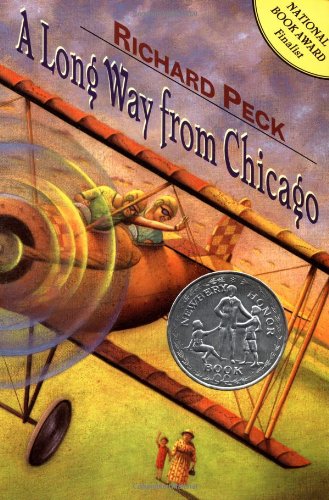 Publisher's Note:
What happens when Joey and his sister, Mary Alice -- two city slickers from Chicago -- make their annual summer visits to Grandma Dowdel's seemingly sleepy Illinois town?
August 1929: They see their first corpse, and he isn't resting easy.
August 1930: The Cowgill boys terrorize the town, and Grandma fights back.
August 1931: Joey and Mary Alice help Grandma trespass, poach, catch the sheriff in his underwear, and feed the hungry -- all in one day.
And there's more, as Joey and Mary Alice make seven summer trips to Grandma's -- each one funnier than the year before -- in self-contained chapters that readers can enjoy as short stories or take together for a rollicking good novel. In the tradition of American humorists from Mark Twain to Flannery O'Connor, popular author Richard Peck has created a memorable world filled with characters who, like Grandma herself, are larger than life and twice as entertaining. Richard Peck lives in New York City.
A Long Way From Chicago
by Richard Peck
Overall Review:
When Joey and his little sister Mary Alice go to spend the summer with Grandma Dowdel, they aren't sure what to expect—but before long they, and the reader, are whisked on several madcap adventures with the redoubtable Grandma. It's hard not to enjoy a story that starts off on such a wacky note as this one. A Long Way From Chicago is quirky, fun, and endearing; I quickly grew to love Joey, Mary Alice, and especially larger-than-life Grandma Dowdel, whose gruff brand of craziness is matched only by her kind heart. A Long Way From Chicago ends on a perfect and poignant note—one that left me wishing I had a Grandma Dowdel in my own life! This is a great, quick read for kids and adults who enjoy a little quirky adventure.
Content Analysis:
Profanity/Language:
***
Violence/Gore: Several references throughout the book are made to Chicago gang violence. A tall tale is told about a man being an outlaw and killing a man. A reference is made to a corpse smelling badly during a wake. A woman shoots a corpse. A bomb is planted in a mailbox and explodes. A character sets off a firework under a group of other characters' feet (nobody is hurt). A character threatens a character with a gun. Teenage boys are disciplined by their father, who whips them with a strap. A mother threatens to beat her daughter for disobedience. A character threatens another character on two occasions. A character pulls a ladder away from underneath another character (no real harm is done). A story is told about two men killed in a railroad accident, and several comments are made about their corpses being extremely maimed from the accident. (There isn't a lot of graphic detail, but there are several comments that are a little grisly.) A story is told about police killing a gang member. Two very old men wrestle. All the violence in the story is handled in a very humorous/madcap manner, and none of it has very graphic detail.
Sex/Nudity:
***
Mature Subject Matter:
The Great Depression
Alcohol / Drug Use:
Throughout the story, several references are made to Prohibition and illegal alcohol production. Adult characters drink alcohol on several occasions.
Reviewed By CindyB