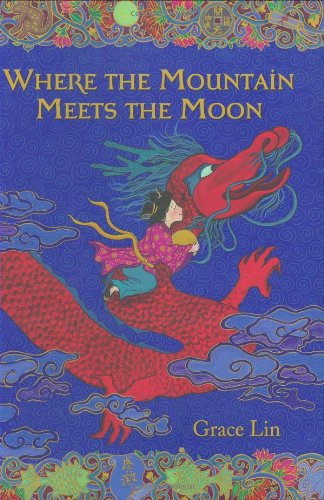 Publisher's Note:
In the valley of Fruitless mountain, a young girl named Minli lives in a ramshackle hut with her parents. In the evenings, her father regales her with old folktales of the Jade Dragon and the Old Man on the Moon, who knows the answers to all of life's questions. Inspired by these stories, Minli sets off on an extraordinary journey to find the Old Man on the Moon to ask him how she can change her family's fortune. She encounters an assorted cast of characters and magical creatures along the way, including a dragon who accompanies her on her quest for the ultimate answer.

Grace Lin, author of the beloved Year of the Dog and Year of the Rat, returns with a wondrous story of adventure, faith, and friendship. A fantasy crossed with Chinese folklore, Where the Mountain Meets the Moon is a timeless story reminiscent of The Wizard of Oz. Her beautiful illustrations, printed in full-color, accompany the text throughout. Once again, she has created a charming, engaging book for young readers.
Where the Mountain Meets the Moon
by Grace Lin
Overall Review:
Every now and then a book comes along that unexpectedly sweeps you off your feet. That was my experience reading Where the Mountain Meets the Moon, Grace Lin's delightful fantasy fable based on her own memories, interpretations, and extrapolations of Chinese mythology. I was drawn in quickly by the irrepressible spirit of Minli, the main character, and by the simple but wonderful stories that are told throughout the book. This is the kind of book that gets better as you go along, its charm growing greater with each turn of the page. The ending was perfectly satisfying, leaving me with a happy smile on my face and a deep contentment in my heart as I closed the book. Where the Mountain Meets the Moon is the kind of book I'll read again and again. Not only does it make a great read for kids and adults alike, but it would also be a phenomenal read-aloud; the story is told in a very narrative, storyteller-esque style, and I think it would truly shine when read aloud.
Content Analysis:
Profanity/Language:
***
Violence/Gore: A story is told in which a man orders someone to kill a child. A tiger attacks and wounds a dragon. A story is told in which a tiger kidnaps a boy. A tiger attacks a girl.
Sex/Nudity: A story is told in which a group of girls bathe naked in a river (no description is ever given and it is very innocent).
Mature Subject Matter:
Poverty, greed, happiness despite difficult circumstances.
Alcohol / Drug Use:
***
Reviewed By CindyB