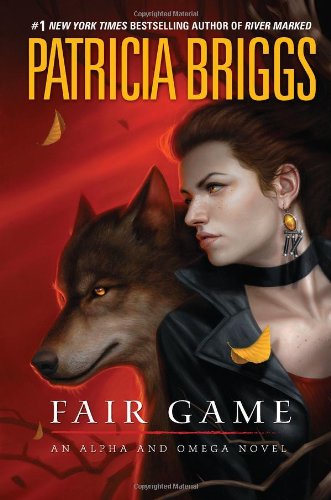 Publisher's Note:
Patricia Briggs, the #1 New York Times bestselling author of the Mercy Thompson novels, "always enchants her readers." (Lynn Viehl, New York Times bestselling author) Now her Alpha and Omega series-set in a world of shifting shapes, loyalty, and passion- brings werewolves out of the darkness and into a society where fear and prejudice could make the hunters prey...
They say opposites attract. And in the case of werewolves Anna Latham and Charles Cornick, they mate. The son-and enforcer-of the leader of the North American werewolves, Charles is a dominant alpha. While Anna, an omega, has the rare ability to calm others of her kind.
Now that the werewolves have revealed themselves to humans, they can't afford any bad publicity. Infractions that could have been overlooked in the past must now be punished, and the strain of doing his father's dirty work is taking a toll on Charles.
Nevertheless, Charles and Anna are sent to Boston, when the FBI requests the pack's help on a local serial killer case. They quickly realize that not only the last two victims were werewolves-all of them were. Someone is targeting their kind. And now Anna and Charles have put themselves right in the killer's sights...
Fair Game
by Patricia Briggs
Overall Review:
Fair Game by Patricia Briggs is the third book in her popular Alpha and Omega series. The writer creates an interesting love story surrounded by a crime drama that pulls you in and before you know it you are done. The main characters and their relationships with each other and their pack do have some appeal and are the main reason the book goes quickly. However, the crime story is lacking. It centers on a serial killer that is common among the genre but the author adds a super-natural twist. Briggs' world of werewolves, witches and fae characters add to the interest of the crime drama, but without these additions the detective story is somewhat plain. Underlying interpersonal relationships between the main characters seem out of place and their harlequin romance sexual encounters add to the disjointedness of the storyline. The detective work by the characters is nothing special or clever. The badguy's "surprise" identity is not surpising. The authors' narrative writing style is hard to follow at times. Overall this book reminds me of an episode of Criminal Minds mixed with Days of Our Lives then sprinkle in some Twilight. At its core the book is a romance novel that is spiced up with some fantasy elements. No thinking required.
Content Analysis:
Profanity/Language: 4 religious exclamition; 8 mild obsenities; 4 religious profanities; 6 derogatory names; 6 anatomical terms; 1 f-word derivative.
Violence/Gore: Character references past physical and mental abuse including rape, non-descriptive; few police reports/briefings of a serial killer who brutally murders and rapes victims; detailed gore, rape and disfigurement; 2nd hand report of killing rogue werewolves; 2nd hand report of the violence the rogue werewolves did, includes graphic description of blood and gore; few spooky situations involving witchcraft and ghosts; descriptive fantasy violence with detailed blood and gore ending in death.
Sex/Nudity: Several sexual references mostly in jokes, innuendo and dialogue; characters cuddle; two explicit sex scenes; several references to rape (women, children, and men) non-detailed; reference to homosexuality; reference to bestiality.
Mature Subject Matter:
Death of child, rape, murder, mental disorders, child abuse, spousal abuse, breaking and entering, assult and battery, computer hacking, vigilante justice, black magic, witchcraft, torture, kidnapping, racism.
Alcohol / Drug Use:
One adult party includes drinking.
Reviewed By Matthew