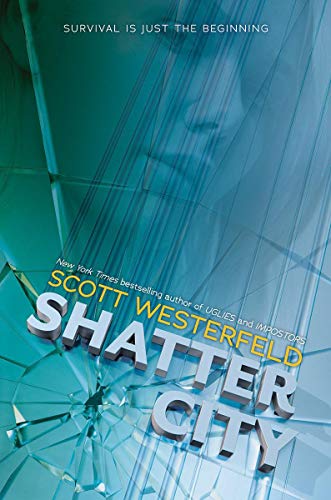 Publisher's Note:
When the world sees Frey, they think they see her twin sister Rafi. Frey was raised to be Rafi's double, and now she's taken on the role . . . without anyone else knowing.
Her goal? To destroy the forces that created her.
But with the world watching and a rebellion rising, Frey is forced into a detour. Suddenly she is stranded on her own in Paz, a city where many of the citizens attempt to regulate their emotions through an interface on their arms. Paz is an easy place to get lost . . . and also an easy place to lose yourself.
As the city comes under a catastrophic attack, Frey must leave the shadows and enter the chaos of warfare - because there is no other way for her to find her missing sister and have her revenge against her murderous father.
This book was sent to Compass Book Ratings for review by Scholastic
Shatter City (Impostors Book 2)
by Scott Westerfeld
Overall Review:
Scott Westerfeld does it again. This latest story in the Impostors Series is absolutely fantastic for its entirety. Book one, Impostors, in the series was great but this was even better. One of the things that Westerfeld excels at is coming up with ideas for futuristic technology. His suggestions are so compelling that you'll find yourself wishing someone would hurry up and invent them already. Full of action and suspense, the story will leap from the pages. There are many references to not only the first book in this series but some from the Uglies Series that take place prior to this series but these references are a fun way to reminisce rather than confuse those who haven't visited this dystopian world before. Additionally, be prepared for a few shell-shocking surprises. Shatter City is an absolute must for dystopian fans to add to their collection.
Content Analysis:
Profanity/Language: 1 mild obscenity.
Violence/Gore: Many (49) brief incidents including reference to a character being trained to kill; verbal threats; character knowing ways to kill another; character might get hurt; character thinking about hurting another; several references to war resulting in injury or death; reference to executions and murder; reference to kidnapping; second-hand report of character intentionally having bones broken and being cut; reference to suicide; reference to a nuclear attack; reference to a medieval torture device; character taking painkillers and getting knocked out for medical purposes; characters throwing items at drones; character cut by drone; characters wear bomb collars; characters getting shot at by bullets and darts; character getting shocked; characters fighting and breaking machines/robots; characters passing out from gas; characters attacked by a robot causing death of some; character stabs hand of android; metal on characters disintegrates; earthquake destroys buildings and some characters are killed. One extended incident of characters getting attacked by machines and robots, some deaths occur.
Sex/Nudity: Many (24) brief incidents mostly involving teenagers including reference to two characters being in love; character wants to kiss another; holding hands; arm around; hugging; kissing; reference to boy and girl keeping each other warm at night; girl in underwear (non-sexual); female character naked in front of male and female characters for a shower (non-sexual); reference to homosexuality; non-binary character.
Mature Subject Matter:
Stealing; depression; murder; suicide; war; death; homosexuality (reference to); non-binary character.
Alcohol / Drug Use:
A few incidents of teen characters drinking champagne at parties; machine walks as if drunk; reference to alcohol rations.
Reviewed By Jenny