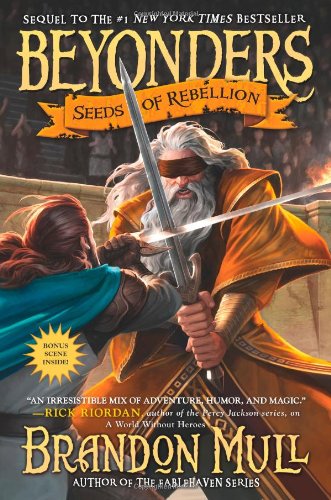 Publisher's Note:
Seeds of Rebellion
by Brandon Mull
Overall Review:
Fantastical creatures galore! Seeds of Rebellion is Brandon Mull's second installment of the Beyonder trilogy. Readers who hope to understand this book should definitely read the first book, A World without Heroes. Without this background knowledge, one would feel completely lost when it comes to the myriad of creatures and characters mentioned. Mercifully, Mull does not dwell excessively on the characters' backstories. Rather he provides just enough hints to refresh the memory. Although many of the creatures mentioned in the story are commonplace in fantasy novels, there is also an abundance of new and unique creatures. The author employs lengthy dialogue to convey essential plot points and this slows the pace of book a bit. Readers will enjoy the well thought out stories and exciting adventures. However, be prepared to wait for the sequel as this book ends rather abruptly.
Content Analysis:
Profanity/Language: None.
Violence/Gore: Character swallowed by an animal; few instances of character grabbed by another; few characters hit by objects thrown by other characters; few mentions of characters and things being blown apart, no details; several instances of characters threatening others with objects such as knives or swords; a few characters killed by creatures; character drowned by another; character poisons another; character starts people and things on fire; several instances of characters threatening to kill other characters; three extended fight scenes(3,4 and 11 pages) involving death, but graphic detail is limited to phrases such as sword entered torso and character collapses.
Sex/Nudity: Non-married characters hug and rub shoulders, not sexual in nature; character disrobes to shower, no details.
Mature Subject Matter:
Death of family and friends, war, deception, murder, robbery.
Alcohol / Drug Use:
Characters have a drink in a tavern; drugs of varying kinds are used both medicinally and as weapons, these are not drugs found in our world.
Reviewed By Susan