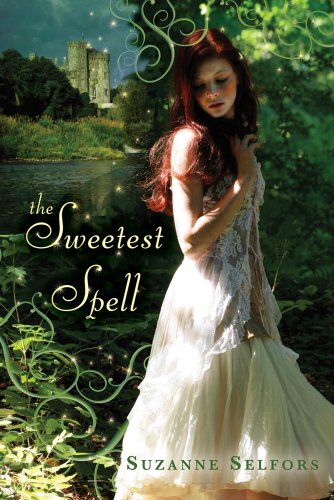 Publisher's Note:
This book was sent to Compass Book Ratings for review by Walker & Company
The Sweetest Spell
by Suzanne Selfors
Overall Review:
What could be better than a fairytale about love and chocolate? That's exactly what The Sweetest Spell is, from its slightly dour beginning to its satisfying end. Quirky and delightful, this book is filled with unexpected magic, spunky characters, and—of course—sweet chocolate. I fell in love with Emmeline Thistle and Owen Oak, the book's two narrators, immediately. I also enjoyed Suzanne Selfors' lighthearted and whimsical style and her ability to craft a story that is delightfully different from anything else I'd ever read.
My only complaint about the book was that because the book switches between Emmeline and Owen both narrating in first person, I sometimes had trouble distinguishing which chapters were from the point of view of which character. Also, although they grew more distinct as the book went on, in the beginning Emmeline and Owen's voices sounded very similar, which contributed to my difficulty in telling the narrators apart.
However, in all other respects The Sweetest Spell was a very nearly perfect book—highly recommended for anyone who loves adventure, fairytales, or chocolate!
This is a review of an uncorrected proof.
Content Analysis:
Profanity/Language: 3 religious exclamations. 7 mild profanities. 1 derogatory name. 3 scatalogical terms. 1 instance of British profanity ("bloody").
Violence/Gore: A midwife tells a man that he has to abandon his baby (who has a birth defect) in the forest for the predators to get her. Girls get into a wrestling match over who will marry a boy (the situation is absurd and handled with humor). Soldiers roughly handle men and boys on two occasions. A character likes to participate in "barefist fighting" (boxing matches) and a few matches are described; some fighters are injured (though none seriously). A character is washed away by a flood and nearly drowns. A character is attacked by a drunk man (the character sustains non-life-threatening injuries). A brief reference is made to a woman who was raped and later drowned herself (no details of either are given). A character is kidnapped. A character is stabbed. Two soldiers are killed. Throughout the story, several threats are made. A man slaps a girl. A character wishes they had the ability to murder another character. A character threatens another character with a knife. Two characters are told to fight to teh death. A character falls on a knife (intentionally) and is killed (no details are given of the scene).
Sex/Nudity: Throughout the story, young men and men are described as shirtless while working, fighting, sleeping, etc. A man is teased and called a "virgin" by other men. In two instances women are described as having a large amount of cleavage. A young man says he was caught half-naked with a girl. A girl is stripped down to check for wounds (only women are present and no description is given). A girl undresses for a bath in the presence of other women (no description is given). A man tells his son not to get a girl "with child." A few references are made to a marriage bed. A few references are made to characters wishing to share their beds with other characters, but it is not stated whether or not it is sexual. An allusion is made to a homosexual couple. Characters flirt and kiss on several occasions.
Mature Subject Matter:
Social ostracisim, kidnapping, slavery, corrupt government
Alcohol / Drug Use:
Characters drink ale throughout the story.
Reviewed By CindyB