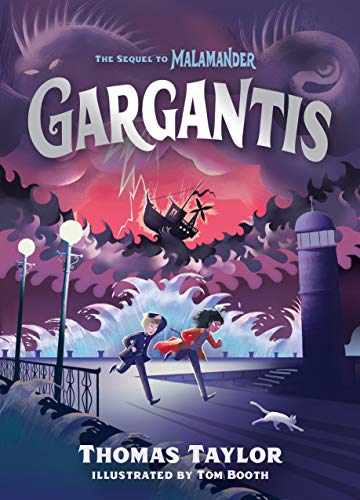 Publisher's Note:
In the second fantasy set in Eerie-on-Sea, Herbert and Violet team up to solve the mystery of Gargantis — an ancient creature of the deep with the power to create life-threatening storms.
There's a storm brewing over Eerie-on-Sea, and the fisherfolk say a monster is the cause. Someone has woken the ancient Gargantis, who sleeps in the watery caves beneath this spooky seaside town where legends have a habit of coming to life. It seems the Gargantis is looking for something: a treasure stolen from her underwater lair. And it just might be in the Lost-and-Foundery at the Grand Nautilus Hotel, in the care of one Herbert Lemon, Lost-and-Founder. With the help of the daring Violet Parma, ever-reliable Herbie will do his best to figure out what the Gargantis wants and who stole her treasure in the first place. In a town full of suspicious, secretive characters, it could be anyone!
This book was sent to Compass Book Ratings for review by Walker Books
Gargantis
by Thomas Taylor
Overall Review:
In Gargantis, sequel to the novel Malamander, author Thomas Taylor takes readers back to the quirky little town of Erie-on-Sea. Once again, the Lost-and-Founder, Herbie, and his good friend Violet take the readers on a grand, if not unusual adventure. This time, however, it is to save the little town itself from crumbling into the sea. As Lost-and-Founder, Herbie is in the perfect position to help find what the sea monster, Gargantis, seems to have lost, which has upset it greatly.
Throughout Gargantis, Herbie and Violet have to rely on each other and solve some exciting puzzles and get out of some nerve-wracking predicaments. Herbie also has to overcome his fears, which leads to a little self-discovery, helping him realize he is important and what he offers to the town is important as well. And just as it was in the first book, not everything and everyone in Erie-on-Sea is what it seems, adding to the excitement of the adventure.
Author Thomas Taylor uses all the same ingredients from his previous book--atmosphere, great characters, mystery, folklore, and a cracker-jack setting for another eerie escapade that is oh-so-satisfying. Just as in Malamander, Gargantis is delightfully illustrated. And once again the novel ends on with unresolved questions, so look forward to the next one being released.
The review of Malamander can be found here.
Review of an Advance Reading Copy
Content Analysis:
Profanity/Language: None
Violence/Gore: Detailed description (one paragraph) given of a picture with a giant sea creature destroying a town with people running away from it; Detailed description (one paragraph) given of a book cover with people sinking to the bottom of the sea and being detained by the tentacles of a giant sea creature; A small mechanical hermit crab threatens a character with knife-like appendages; A gathering of people try to forcibly detain a character with a fishing net (2 times); Mention of someone having seen a collection of skeletons at the bottom of the sea of people that have drowned; Secondhand account of someone having thrown a bomb at a boat; Character threatens to hit someone with a wrench; Character is hit with a tentacle in the face from a human-like sea creature and creature then threatens character with drowning; A person mentions they are willing to sacrifice one of the characters to the giant sea creature if it means they can save the town; A man is slapped, punched and knocked out by the tentacles from the human-like sea creature; Human-like sea creature hits a character with tentacles; Character is grabbed from behind and detained; Character is pulled back by the tentacles of the creature (2 times); Tentacles from the creature grab a man by the throat and threaten him; Character is knocked out, tied up and kidnapped; Character is put out on a plank of a boat as bait for the sea creature; 8 page description of the battle with the sea creature; Tentacles from the human-like sea creature punch a man and knock him down; Character is threatened with death.
Sex/ Nudity: None
Mature Subject Matter:
Death.
Alcohol / Drug Use:
One mention of someone buying everyone at a bar drinks.
Reviewed By Sally