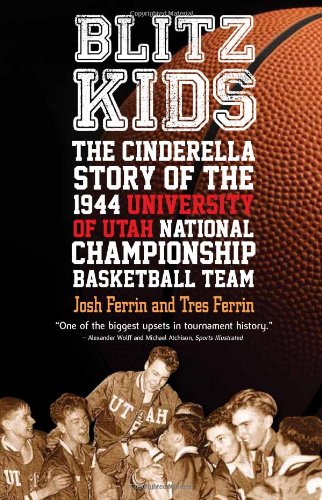 Publisher's Note:
In the 1940s, before March Madness, the frenzy of the NBA draft, and multimilliondollar professional contracts, college basketball players played simply because they loved the game. This is the story of a group of kids who loved to play basketball: the underdog 1943-44 University of Utah men's basketball team and their unlikely path to the NCAA championship, who came out of nowhere to upset heavily favored Dartmouth for the title.
Josh Ferrin and Tres Ferrin, grandson and son of Arnie Ferrin, both grew up hearing stories of Arnie's illustrious basketball career at the University of Utah. Josh established himself as an award-winning illustrator and author before deciding to research and write the story of Arnie's championship season. He resides in Bountiful, Utah, with his wife and two sons. Tres is a physical therapist who has practiced in the area of sports medicine for thirty-five years, an adjunct faculty member at Weber State University, and an avid cyclist. He and his wife, Sherry, live in Ogden, Utah.
The original and unlikeliest of Cinderella stories.
This book was sent to Compass Book Ratings for review by Gibbs Smith
Blitz Kids
by Josh and Tres Ferrin
Overall Review:
Blitz Kids is a fantastic recounting about a rag-tag college basketball team from Utah who against all odds, end up playing in the NCAA Championships at Madison Square Garden in 1944 during WWII. It's the story about the transformation of group of young men from different backgrounds and ethnicity's into something greater than themselves, a story of great achievement but also of great tragedy.
I was hooked by page eleven and read the first half of the book in one sitting. Not being a huge basketball fan, I'm fairly ignorant about the game and its history. This book is full of really interesting information about the basketball and its origins, as well as pertinent information about what was happening in America during the early years of WWII. Blitz Kids is a book about basketball, but even more so, it's a great story about the character, commitment, perseverance, hope and honor exemplified by these young athletes and the men who coached them.
Content Analysis:
Profanity/Language: 1 mild obscenity; 8 derogatory names.
Violence/Gore: Report of a car accident with injuries, 1 death, 1 limb amputation, 1 brief mention of blood at the scene of the accident.
Sex/Nudity: None
Mature Subject Matter:
Social Conflicts, Death, Family/Personal Crisis.
Alcohol / Drug Use:
***
Reviewed By Sherel