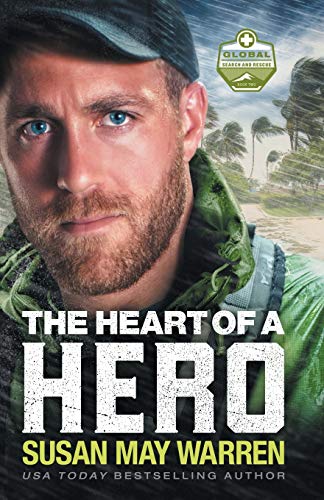 Publisher's Note:
Jake Silver may not be able to put the memories of his time as a sniper and Navy SEAL behind him, but at least he can put his skills to use as a part of the Jones Inc. rescue team. Saving the life of pediatric heart surgeon Dr. Aria Sinclair on Denali helped too. Now he can't get her out of his head, and when he hears she is in the path of a hurricane down in Key West he can't help but jump on a plane to rescue her.
Aria has dedicated her life to helping children born with defective hearts. After all, she was one of those children. Now driven to succeed, she lives a lonely, stressful life. One she would have lost on Denali if it hadn't been for Jake. Jake is exciting and handsome, but he's also dangerous, and she's already lost one person she loves. She can't bear it again.
It's not until she finds herself trapped in the middle of a category 4 hurricane that she can admit she needs Jake desperately. With their very survival in the balance, can they hope for a second chance at life . . . and love?
This book was sent to Compass Book Ratings for review by Revell
The Heart of a Hero
by Susan May Warren
Overall Review:
Susan May Warren has done it again. She has packed The Heart of a Hero so full of action it is almost a surprise when she starts to wind down the story. It's almost as though she could keep on writing, but even she realizes all stories have to end somewhere. This story is the second in the Global Search and Rescue Series. It is highly recommended that you read the first book because a lot of material mentioned in this book is explained there in more detail.
The male protagonist in this book, Jake, is pretty great. He is the ultimate hero type with a soft side. Readers will be excited to follow his path to renewed faith and confidence and possibly love. This story is full of all sorts of situations in which Jake must rise up and protect others. He is a guy who can get things done.
Warren's writing style makes it easy for readers to come along on adventures, but also invites readers into the minds and emotions of her characters. Reading this book is not what one might call an easy read, because it has many intense moments--some physical and some emotional. The ending certainly leaves room for the reader to look forward to the next book.
Review of an Advance Reading Copy
Content Analysis:
Profanity/Language: 3 religious exclamations.
Violence/Gore: A character recalls two incidents in which he shot someone as an act of defense; several references are made to past assassination attempts; two scenes in which a person tries to drown another; several scenes in which shots are fired, including the mention of blood and fatalities; two instances in which a character is stabbed and bleeding; child is taken hostage; intense scene where characters are dangling from a dangerous height; character believes he killed his spouse.
Sex/Nudity: Character recalls nearly engaging in sexual activity, but it is interrupted before it goes past kissing; non-married characters kiss, embrace and hold hands.
Mature Subject Matter:
Death of immediate family members, PTSD, terminal illness, espionage.
Alcohol / Drug Use:
Report that a person turned to drinking; a man is high on some type of drug.
Reviewed By Susan