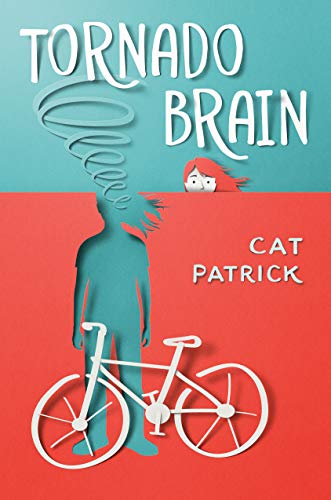 Publisher's Note:
Things never seem to go as easily for thirteen-year-old Frankie as they do for her sister, Tess. Unlike Tess, Frankie is neurodivergent. In her case, that means she can't stand to be touched, loud noises bother her, she's easily distracted, she hates changes in her routine, and she has to go see a therapist while other kids get to hang out at the beach. It also means Frankie has trouble making friends. She did have one--Colette--but they're not friends anymore. It's complicated.

Then, just weeks before the end of seventh grade, Colette unexpectedly shows up at Frankie's door. The next morning, Colette vanishes. Now, after losing Colette yet again, Frankie's convinced that her former best friend left clues behind that only she can decipher, so she persuades her reluctant sister to help her unravel the mystery of Colette's disappearance before it's too late.

A powerful story of friendship, sisters, and forgiveness, Tornado Brain is an achingly honest portrait of a young girl trying to find space to be herself.
This book was sent to Compass Book Ratings for review by G.P. Putnam's Sons Books for Young Readers
Tornado Brain
by Cat Patrick
Overall Review:
You might expect a middle-grade novel with a female main character to be about boys, teen drama, and to have little substance, but many of the newer teen books have themes that approach more serious subjects and you can add Tornado Brain to that list. ADHD touches the lives of a huge population and it's great that authors like Cat Patrick are addressing things that impact so many people. This book provides the opportunity to not only entertain but also to open a dialogue with your children who may have classmates, friends or themselves who are experiencing developmental challenges. It also can help readers better interpret and accept the thoughts and actions of someone who might not otherwise be understood, as is similarly done in Get a Grip, Vivy Cohen. Patrick's approach is kind and accepting, which can help others be the same way. Not only are readers educated on the struggles of those with developmental challenges, but also the heart-wrenching pain of a friend getting hurt. It is all done in a way that keeps your interest and makes you want to quickly reach the conclusion. This 4 1/2 star book will be enjoyed by anyone who likes teen fiction, especially those who know someone or are personally on the autism spectrum.
Review of an Advance Reading Copy
Content Analysis:
Profanity/Language: 9 religious exclamations (and 1 additional acronym (OMG)).
Violence/Gore: Several (16) brief incidents including a character almost hit by a car; a character being overly dramatic, thinking she would die; potential to die; a character could get zapped in an electrical storm; a character worried another might get killed; a joke that a character will kill another; a character could've been killed; references to destruction from a tornado; reference to a dog getting eye scratched out; second-hand report of a house exploding; reference to dead animals; reference to someone killed in a movie; second-hand report of suicide; reference to a tornado destroying a building; second-hand report of a young character dying; character accidentally breaks a window.
Sex/Nudity: Few (6) brief incidents including reference to an adult couple kissing; reference to young teenagers dating; reference to young teens kissing and holding hands; second-hand report of adults having an affair.
Mature Subject Matter:
Missing teen; death; reference to suicide; ADHD.
Alcohol / Drug Use:
Adults smoking.
Reviewed By Jenny