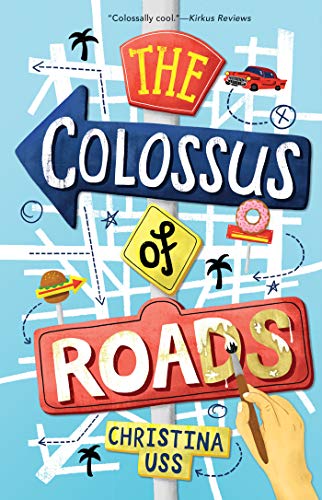 Publisher's Note:
From the author of the acclaimed The Adventures of a Girl Called Bicycle comes a tale of traffic jams, secret plans, and one eleven-year-old boy's determination to save his family's livelihood.
Rick Rusek's stomach has a lot to say. It's got opinions on tasty foods, not-so-tasty foods, and driving in traffic-jammed Los Angeles makes it roil, boil, gurgle, and howl. It's doing the best it can. It never meant to earn its owner the nickname Carsick Rick or make him change schools for fifth grade.

And Rick's stomach isn't the only one dealing with terrible traffic. His family's catering service, Smotch, is teetering on the verge of ruin after a rash of late deliveries and missed appointments. Fortunately, Rick has the solution. Unfortunately, no one wants to listen to a kid.

Absolutely certain that he could fix the constant, endless traffic snarls, Rick hatches a plan. But he'll need help from his unicorn-loving Girl Scout neighbor, a famous street artist, and the best driver in L.A. Together they'll take on the stream of stalled cars--and a secret conspiracy or two, too.

It's going to be tough, but Rick won't give up. If he can successfully move the 330,000 slow-moving cars standing in the way of his family's future, maybe everyone will see that he's not Carsick Rick. He's one of the seven wonders of Los Angeles.

He's the Colossus of Roads.
This book was sent to Compass Book Ratings for review by Margaret Ferguson Books
The Colossus of Roads
by Christina Uss
Overall Review:
With the weight of the world on his shoulders, and knowing happiness is contagious, Rick is determined to have one solve the other. Even at eleven-years-old, he has big dreams to help his family but what he's thinking isn't exactly the right way of going about things so Rick is taking a lot of risk. For such a young man, he has a big conscience, and he's basically wondering if the ends justify the means. His next-door neighbor is Mila. Soft spoken, yet very dependable, she's a true friend. Art and drawing are her passion, especially unicorns, and she's also got some serious listening skills. Mila and Rick make a good team.
This is Rick's story of how a kid with a dream can make a difference. He and his stomach have side conversations which are pretty entertaining. Sometimes it even reminds him of how a friend should act and that what he does to help the people around him really does matter. In the end, Rick spills the truth and things take a turn he didn't expect.
The author, Christina Uss, has done a splendid job blending family and culture into this tale. From Abuelita's driving, to the bike loving SPLAT club, to Rick's family and their financial crunch, this is a story worth reading. The pacing is fun and energetic so it keeps the reader coming back for more. With a boy and girl main character, plus several other entertaining people thrown in throughout the story, this could be a winner for any young reader looking for an adventure outside the usual story "box". This is Christina Uss's second book and it was just as entertaining as her first: The Adventures of a Girl Called Bicycle which is also worth picking up a copy and reading. Both of these would make good family read-aloud books.
Review of an Advance Reading Copy
Content Analysis:
Profanity/Language: None
Violence/Gore: None
Sex/Nudity: A museum curator, who is giving a presentation at a middle school, shows a picture of the Colossus of Rhodes who is naked, no description of nudity, just kids giggling.
Mature Subject Matter:
Vandalism, family financial difficulties, earthquake.
Alcohol / Drug Use:
None
Reviewed By Beth