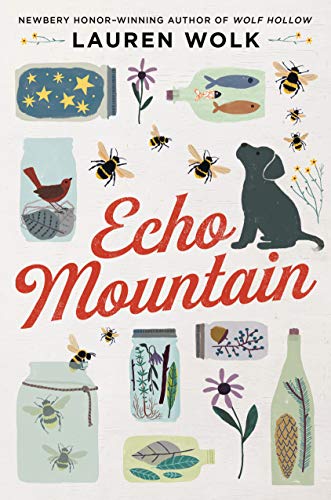 Publisher's Note:
When the Great Depression takes almost everything they own, Ellie's family is forced to leave their home in town and start over in the untamed forests of nearby Echo Mountain. Ellie has found a welcome freedom, and a love of the natural world, in her new life on the mountain. But there is little
joy, even for Ellie, as her family struggles with the aftermath of an accident that has left her father in a coma. An accident unfairly blamed on Ellie.

Determined to help her father, Ellie will make her way to the top of the mountain in search of the healing secrets of a woman known only as "the hag." But the hag, and the mountain, still have many untold stories left to reveal and, with them, a fresh chance at happiness.

Echo Mountain is celebration of finding your own path and becoming your truest self. Newbery Honor– and Scott O'Dell Award–winning author Lauren Wolk weaves a stunning tale of resilience, persistence, and friendship across three generations of families, set against the rough and ragged beauty of the mountain they all call home.
This book was sent to Compass Book Ratings for review by Dutton Books for Young Readers
Echo Mountain
by Lauren Wolk
Overall Review:
From the Newbery Honor winning author Lauren Wolk comes this new historical fiction set during the Great Depression. The story follows a 12-year-old girl, Ellie, who is trying to survive a new life on the mountain while also discovering who she is and what her gifts are. Ellie is an animal lover and develops an interest in healing others. It describes quite a few medical scenes and is not for the faint of heart with regards to details of wounds.
This book reads similar to Little House on the Prairie in that the pace is a little slower and a lot of detail is given to everyday life and what the characters are doing, eating, how they live, etc. It is similar to other middle grade historical fiction novels about the Great Depression in that it discusses the trials of the characters without being too grim or detailed.
This book holds mystery and intertwining stories that are fun to discover as you read the book. At the heart of the story is a sense that you cannot see the future and sometimes you just have to be in the moment, whether it is something or somewhere you never thought you would experience. There is also a theme of bravery and finding the courage to do what needs to be done.
Review of an Advance Reading Copy
Content Analysis:
Profanity/Language: None
Violence/Gore: Character saves a dead puppy; blood from the birth of puppies; reference to an accident with details appearing throughout the book described as a tree falling on an adult saving a child resulting in a coma and scar on person's head, blood in the snow, blood dripping from hands, blood matting hair, minor tackling another minor; threat of bears and coyotes; animals used in hunting; vinegar used on bedsores to heal resulting in acid in raw flesh causing pain; threat of cliffs; threat of mountain lions eating cows; threat of wild dog to human; thorn in horse hoof causing pain; trail of animal blood; skinning a deer; thoughts of minor in broken in the jaws of wild dog; a few references to bees stinging and dying; minor fell and was banged up; dead rabbit in the jaws of a dog; thought of minor ending up in a pie; bashing fish to death - remorse; blisters; threat of snake; dead bird; flies drinking from eyes of dead rabbit; maggots eating leg of live person; report of a hot knife sealing the wound of an adult; fisher cat attacked adult; imagining a sibling in an accident; reference to a bee sting feeling like an acid fang in the face; imagery of bees having black and yellow blood; cut wound open resulting in blood; filled wound with honey; person faints; report of death of son; meant to burn cut; avoid a broken leg; cut swollen eyelid with resulting blood; wood hit eye like a bat to the face; report of someone killing and skinning a deer; killing animals for food; report of knife cutting throat of deer; a few reports of death including 4 children from the same family; cut stone out of stomach; bed sores; gaping wounds; report of earaches; threat of bear; imagining sister being mauled by bear; dream of brother's death; green infected wound; threat to cut away wound; thinking someone may die; pain from wound; report of saving a dog from being hung to put out of misery; memory of being burned by candle wax - pain; stating someone was sitting and rotting; hot vinegar being out into wounds causing pain.
Sex/Nudity: None
Mature Subject Matter:
The Great Depression - poverty, losing jobs, changing lifestyles; parent in coma; taking care of wounds; death.
Alcohol / Drug Use:
None
Reviewed By Lacey