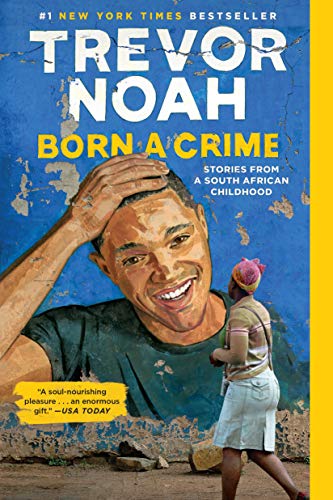 Publisher's Note:
#1 NEW YORK TIMES BESTSELLER • The compelling, inspiring, and comically sublime story of one man's coming-of-age, set during the twilight of apartheid and the tumultuous days of freedom that followed

NAMED ONE OF PASTE'S BEST MEMOIRS OF THE DECADE • NAMED ONE OF THE BEST BOOKS OF THE YEAR BY Michiko Kakutani, New York Times • USA Today • San Francisco Chronicle • NPR • Esquire • Newsday • Booklist

Trevor Noah's unlikely path from apartheid South Africa to the desk of The Daily Show began with a criminal act: his birth. Trevor was born to a white Swiss father and a black Xhosa mother at a time when such a union was punishable by five years in prison. Living proof of his parents' indiscretion, Trevor was kept mostly indoors for the earliest years of his life, bound by the extreme and often absurd measures his mother took to hide him from a government that could, at any moment, steal him away. Finally liberated by the end of South Africa's tyrannical white rule, Trevor and his mother set forth on a grand adventure, living openly and freely and embracing the opportunities won by a centuries-long struggle.

Born a Crime is the story of a mischievous young boy who grows into a restless young man as he struggles to find himself in a world where he was never supposed to exist. It is also the story of that young man's relationship with his fearless, rebellious, and fervently religious mother—his teammate, a woman determined to save her son from the cycle of poverty, violence, and abuse that would ultimately threaten her own life.

The stories collected here are by turns hilarious, dramatic, and deeply affecting. Whether subsisting on caterpillars for dinner during hard times, being thrown from a moving car during an attempted kidnapping, or just trying to survive the life-and-death pitfalls of dating in high school, Trevor illuminates his curious world with an incisive wit and unflinching honesty. His stories weave together to form a moving and searingly funny portrait of a boy making his way through a damaged world in a dangerous time, armed only with a keen sense of humor and a mother's unconventional, unconditional love.
Born a Crime: Stories From a South African Childhood
by Trevor Noah
Overall Review:
Born a Crime may be the quintessential memoir: the format, the timeline structure, the mix of personal with cultural observations were all perfectly interlaced. This is not a biography; it does not read in a linear fashion and does not tell Trevor Noah's complete story from baby to adulthood. It is structured with a section before each chapter in a different font type; this section is an explanation and/or observation of some element of South Africa, the culture, people, or events by Mr. Noah. The chapter then switches to a different font and is a sliver of Mr. Noah's personal life experience.
The author is a stand-up comedian so he uses his humor in his stories. He uses his unique social situation as a child of a black mother and a white father born under apartheid to explain the racial relations and some cultural realities of South Africa. He is uniquely suited to shine a reflective spotlight on these topics.
I listened to the audiobook for the first half of the book. It was outstanding because Mr. Noah is a talented comedian and verbal telling is his arena. I read the last half of the book to experience it as a written work. It also reads well. If you have the choice, I recommend the audiobook because he is just a delight to listen to.
Born a Crime is a thought-provoking memoir on multiple difficult topics made accessible by the author's humor and insights. Highly recommended!
Content Analysis:
Profanity/Language: 5 religious exclamations; 12 mild obscenities; 4 derogatory names; 64 scatological words; 13 anatomical terms; 33 F-word derivatives.
Violence/Gore: Report of a fight; cop strikes teenagers across face; threat to kill; man beats a kid in retaliation for something; a man seems dangerous, gets out of car and grabs a guy by shirt; mom throws kid out of a bus and jumps out to remove from dangerous situation; mom chases kid and throws things at him; numerous references to corporal punishment (whippings) received from mother as discipline; description of "tiring" - process of putting a tire around someone, dousing it in gasoline and lighting it on fire; discussion of riots and how blacks turned on blacks; threatening a guy with clubs; verbal confrontations/threats; reference to police in riot gear in the villages; individual overhears talk about mugging him; discipline at school was the ruler, washing out mouth with soap, and beatings; man beat and killed a cat; 2 pet cats mutilated and hung on owner's porch; ex-husband shot woman multiple times, one in the back of the head (short scene recounted); bullies pelted kid with berries; man hits/beats wife; man hits/beats step-child; reference to car-jackings, gangs, etc.; individual kicks dogs.
Sex/Nudity: Explanation/text of the law outlining no interracial intercourse; individual sometimes called a prostitute; mention of prostitutes; reference to mixing of white and native populations when settlers "had their way with the local women"; mom talks to son about sex, foreplay--brief statements/advice; kiss; reference to porn loading slowly; reference to breasts and vagina (porn-related); reference to rape; innuendo that a person will be raped in prison; individual says he was raped.
Mature Subject Matter:
Apartheid, race issues, racial discrimination, economic disparity, poverty, domestic violence, crime/theft/pirating, violence, death.
Alcohol / Drug Use:
Teenager says that he loved alcohol; individuals are drunk; individuals smoke weed; simile used to compare someone to the "weed guy"; teenager drinks the alcohol out of chocolates; teenagers run to grocery to pick up beer for an adult; an individual is often drunk; references to drugs; drunk individual urinates on the floor.
Reviewed By Cindy