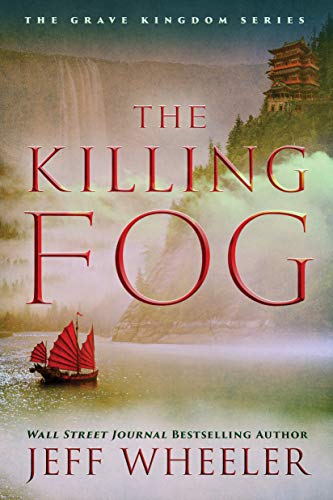 Publisher's Note:
Survivor of a combat school, the orphaned Bingmei belongs to a band of mercenaries employed by a local ruler. Now the nobleman, and collector of rare artifacts, has entrusted Bingmei and the skilled team with a treacherous assignment: brave the wilderness's dangers to retrieve the treasures of a lost palace buried in a glacier valley. But upsetting its tombs has a price.
Echion, emperor of the Grave Kingdom, ruler of darkness, Dragon of Night, has long been entombed. Now Bingmei has unwittingly awakened him and is answerable to a legendary prophecy. Destroying the dark lord before he reclaims the kingdoms of the living is her inherited mission. Killing Bingmei before she fulfills it is Echion's.
Thrust unprepared into the role of savior, urged on by a renegade prince, and possessing a magic that is her destiny, Bingmei knows what she must do. But what must she risk to honor her ancestors? Bingmei's fateful choice is one that neither her friends nor her enemies can foretell, as Echion's dark war for control unfolds.
This book was sent to Compass Book Ratings for review by 47North
The Killing Fog (The Grave Kingdom Book 1)
by Jeff Wheeler
Overall Review:
You know a book is going to be pretty involved when there's a map, glossary, and list of characters. But all the best books do. If you've never picked up a Jeff Wheeler book, you have been missing out. His is the kind of writing, similar to Sharon Shinn's, that you want to take a luxurious stroll through to enjoy the beautiful and descriptive language. At the same time, you also want to sprint through the suspense all the way to the final word. It's bittersweet to reach the conclusion because you don't want it to end; his stories will linger with you.
Even though this is a book that includes a fair amount of fighting and violence, the author, Jeff Wheeler, tells it in such a way that doesn't turn your stomach with gory details. He keeps it classy and leaves unnecessary (and distracting) things out, adding to the appeal of this excellent story. What he did include was fascinating characters, especially the main character, Bingmei, and she has a special power that adds to the complexity of the plot. Also, the sights, sounds, and smells described by Wheeler intensify the experience. You'll be happy to discover that this is the beginning of a series so after you've enjoyed this enthralling portion of the story, there's more to come. I can't wait!
Content Analysis:
Profanity/Language: None
Violence/Gore: Many (78) brief incidents including verbal threats as a joke, character hurts like going to die; character feels as if drowning; characters could die or be killed; something will make you commit suicide; characters want to kill others; character is asked to sacrifice self; verbal threats; character orders another to be castrated; references to robbing and pillaging; several incidents of death and murder being referenced; reference to ghosts; reference to parents abandoning their children; characters come to battlefield with many dead bodies; characters hit with slingshot; characters throw food at others; punching and hitting; rocks thrown at character and rope burns hands; character nearly dies; hunting and fishing; references to Death Wall; characters fight and sustain life-threatening injuries; characters attacked and nearly killed by animals; character pushed over a cliff; character is beaten badly; houses burning; a few incidents of non-detailed scenes of fighting ending in murder.
One extended incident of fighting.
Sex/Nudity: A few (2) brief incidents of flirting.
Mature Subject Matter:
Death; murder; reference to parents abandoning children; prejudice.
Alcohol / Drug Use:
None
Reviewed By Jenny