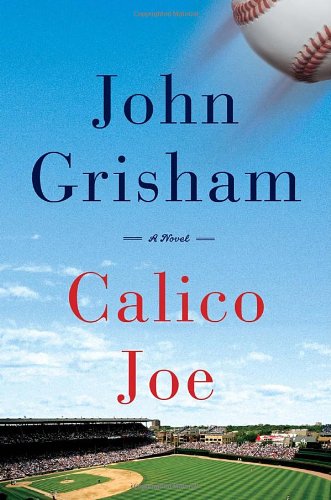 Publisher's Note:
A surprising and moving novel of fathers and sons, forgiveness and redemption, set in the world of Major League Baseball…


Whatever happened to Calico Joe?

It began quietly enough with a pulled hamstring. The first baseman for the Cubs AAA affiliate in Wichita went down as he rounded third and headed for home. The next day, Jim Hickman, the first baseman for the Cubs, injured his back. The team suddenly needed someone to play first, so they reached down to their AA club in Midland, Texas, and called up a twenty-one-year-old named Joe Castle. He was the hottest player in AA and creating a buzz.

In the summer of 1973 Joe Castle was the boy wonder of baseball, the greatest rookie anyone had ever seen. The kid from Calico Rock, Arkansas dazzled Cub fans as he hit home run after home run, politely tipping his hat to the crowd as he shattered all rookie records.

Calico Joe quickly became the idol of every baseball fan in America, including Paul Tracey, the young son of a hard-partying and hard-throwing Mets pitcher. On the day that Warren Tracey finally faced Calico Joe, Paul was in the stands, rooting for his idol but also for his Dad. Then Warren threw a fastball that would change their lives forever…

In John Grisham's new novel the baseball is thrilling, but it's what happens off the field that makes CALICO JOE a classic.
Calico Joe
by John Grisham
Overall Review:
Calico Joe by John Grisham is a wonderful story of fathers, sons, and forgiveness. Centered around an imaginary baseball player, the author leads the reader on a fantastic journey that is sometimes dark, filled with sadness and pain, but then leads you into the light that only forgiveness can provide. The writing is superb as the story seamlessly transitions back and forth between a summer in 1973 and the present day. This gives the story such a depth of detail that the reader will feel as though they lived this story and are reading from their personal journal. Although some of the real life baseball details are not correct, baseball fans will enjoy the author's description of what it may have been like to be a part of a Major League baseball team. Probably the best aspect of this book is the closure it brings. The story may be fiction, but the way in which the characters come to terms with their issues and demons gives hope to those who may have some of the same issues. All cannot be put right, but all can be forgiven and that is good enough. A truly must read book!
Content Analysis:
Profanity/language: 3 religious exclamations; 10 mild obscenities; 2 derogatory names; 7 scatological words.
Violence/Gore: Few references to hitting spouse; few references to hitting a child; few references to death threats; few references to fist fights; few references to being hit by a pitch; detailed description of damage done by being hit by a pitch; extended scene of child abuse; description of large scale brawl.
Sex/Nudity: Few references to infidelity; few references to fan mail offering non-descript sexual favors; discussion about ex-wives and their sexual prowess.
Mature Subject Matter:
Mental and physical abuse of wife and children; divorce; alcoholism; death of family member; brain damage.
Alcohol / Drug Use:
Adults drink, heavily at times; reference to moonshine.
Reviewed By Matthew