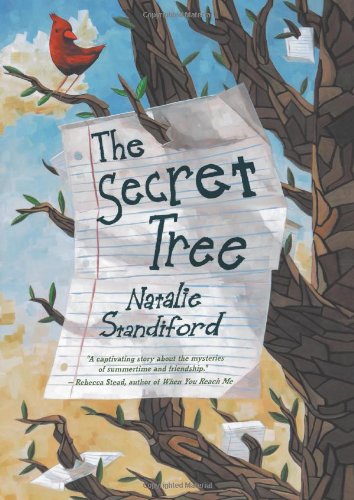 Publisher's Note:
What is your secret?
Minty's neighborhood is full of mysteries. There's the Witch House, a spooky old farmhouse on the other side of the woods from where Minty and her best friend, Paz, live. There's the Man-bat, a seven-foot-tall half man, half bat who is rumored to fly through the woods. And there are the Mean Boys, David and Troy, who torment Minty for no reason, and her boy-crazy older sister, Thea, who acts weirder and weirder.
One day Minty spots a flash in the woods, and when she chases after it, she discovers a new mystery—a Secret Tree, with a hollow trunk that holds the secrets of everyone in the neighborhood. Secrets like:
I put a curse on my enemy. And it's working.
I'm betraying my best friend in a terrible way.
No one loves me except my goldfish.
Raymond, a new boy, is also drawn to the Secret Tree, and together he and Minty start watching their neighbors. They have a curse to fix, and mysteries to solve. But first they have to get through some secrets of their own... secrets that will end up changing everything.
This book was sent to Compass Book Ratings for review by Scholastic
The Secret Tree
by Natalie Standiford
Overall Review:
The Secret Tree is a sweet, thought-provoking book about the secrets one small town holds—secrets that seem an awful lot like they could belong to somebody you or I know. Natalie Standiford does an excellent job of capturing preteen Minty's voice, creating a story that is both readable and eloquent. The Secret Tree is a book that will appeal to preteens but also to adults who have a few secrets of their own.
Content Analysis:
Profanity/Language:
***
Violence/Gore:
***
Sex/Nudity: Characters flirt; a teenaged couple is seen kissing.
Mature Subject Matter:
Divorce, friendship troubles, foster care, runaways, unfit parents.
Alcohol / Drug Use:
A humorous tall tale is told about a boy who "smokes a corncob pipe" at the age of five. A woman is said to smell like alcohol.
Reviewed By CindyB