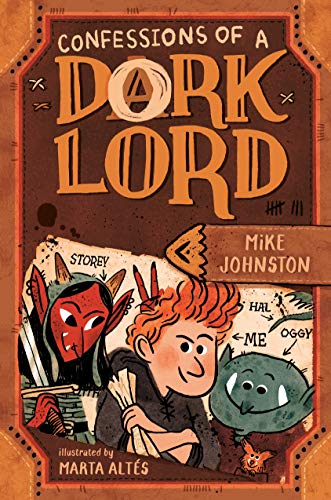 Publisher's Note:
Despicable Me meets Diary of a Wimpy Kid in this hilarious illustrated middle grade adventure that follows a hapless warlock-in-training as he struggles to live up to his great and terrible destiny.

Meet Wick. He's the son of the Dark Lord, heir to the throne of black and broken glass, and next in line to be the leader of the Grim World. Too bad he's stuck in Remedial Spell Casting (he can barely even cast the fart-revealer spell), he's allergic to fire and brimstone, and the bullies at school insist on calling him Dork Lord.

Full of humor, hijinks, and lively illustrations, Confessions of a Dork Lord follows Wick through the pages of his journal as he comes up with a genius plan to defeat his foes, achieve greatness . . . and survive Middle Ages School.

"I loved every page, and your kid will too!" --Melissa de la Cruz, bestselling author of the Descendants series

"It's not easy being bad. But this book will give you a head start." --Pseudonymous Bosch, bestselling author of the Secret series

"Hilarious! Not to be missed!" --Eoin Colfer, bestselling author of the Artemis Fowl series
This book was sent to Compass Book Ratings for review by G. P. Putnam's Sons
Confessions of a Dork Lord
by Mike Johnston
Overall Review:
Confessions of a Dork Lord is a fast-paced, humorous account of the heir of the realm's Dark Lord, leader of the grim folk. This novel turns traditional fantasy on its head by telling the story from the villain's point of view. However, he is not much of a villain, though he desperately wants to be. The character of Wick, son of the Dark Lord, is more practical than scheming and inspires far too much sympathy in the reader to be honestly called a villain. He's not exactly a hero, either, as he does have quite a few aspects that most heroes don't, such as self-centeredness, laziness, and an avid dislike for the boredom of school. In fact, Wick has many traits in common with school-age children in the real world, and these character qualities make the book a good fit for kids.
The characters surrounding the protagonist also represent a vibrant range of interesting character types, from the school bully to the over-protective parental figure to an indolent dragon; Wick shares the stage with quite a few colorful characters. These characters are placed in a setting that is as varied as the people who live there, and the author is skillful at describing the castles and scenery so that the story has a believable backdrop while avoiding using so much description that a young reader could be bogged down in it.
My assessment of this tale is the opposite of grim. It is an exciting, entertaining story that I'd recommend to middle grade readers.
Review of an Advance Reading Copy
Content Analysis:
Profanity/Language: 1 mild obscenity.
Violence/Gore: A few verbal threats; a cartoonish illustration shows blood on a weapon; a few reports of characters wounded or killed by magic; blood is discussed briefly in poetry about battle; report of people killed or maimed by animals; a few reports of people killed in past battles; mention of stripping flesh from dead animals as part of a profession; a fist-fight; characters are injured or transformed into animals by magical spells a few times; a character knocks himself out accidentally; characters fight with magic and melee with no major injury; a character is turned to stone.
Sex/Nudity: Some statues are naked, but no details are given other than their pants are down.
Mature Subject Matter:
Theft; (literal) toilet humor featured prominently; orphan.
Alcohol / Drug Use:
Part of the beer-making process is described in the context of a profession.
Reviewed By Calinda