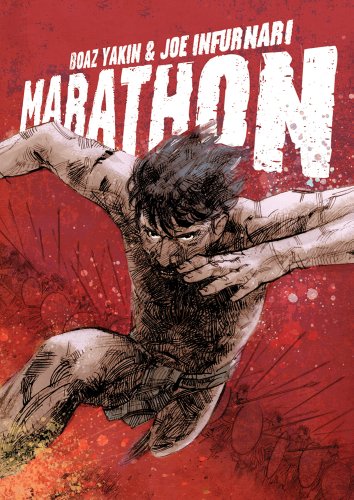 Publisher's Note:
The epic tale of the original marathon runner—just in time for the 2012 Olympic Games
It was a turning point in ancient history. It inspires men to greatness. It was the foundation of one of the greatest and most prevailing global peace efforts of the 20th century. It was the greatest feat—and the tragic death—of a man whose legacy will never be forgotten. In 490BC, an Athenian messenger named Eucles ran 153 miles from Sparta to Athens, and in so doing preserved ancient Greek civilization from subjugation to the Persian Empire. This is his story.
This book was sent to Compass Book Ratings for review by First Second Books
Marathon
by Boaz Yakin & Joe Infurnari
Overall Review:
Marathon by Boaz Yakin and Joe Infurnari is one intense graphic novel. Each beautiful, dynamic page retells the intense, life or death struggle between the Athenians and Persians in the 490 BC Battle of Marathon. With the heroic and fiercely loyal runner Eucles leading the way, Marathon shines as both an informative and visually entertaining read.
Marathon makes for a quick read mostly because the action is non-stop. The artwork is incredibly detailed and illustrator Infurnari expertly conveys the wide range of emotions felt by so many of the characters. It was sometimes difficult to tell who was who, but that may be in part to the monochromatic palate. Readers will marvel at the main character's incredible physical feat of running and may even be inspired to lace up their sneakers -- or simply learn more about this pivotal event in world history.
Content Analysis:
Profanity/Language: 16 mild obscenities; 4 derogatory names
Violence/Gore: Characters verbally threaten other characters; a character is slapped; a child is pushed and kicked by bullies; a man sacrifices himself in battle; a vague outline shows a character's parents being hung; men are injured with blood coming out of their wounds; a character cuts off his son's head; several pages worth of drawings show intense battle scenes, including blood and gore.
Sex/Nudity: A scene implies sexual activity with a husband and wife lying in bed together. They discuss their desire to try and have a baby.
Mature Subject Matter:
War, death, patriotism and loyalty, socioeconomic status, slavery
Alcohol / Drug Use:
***
Reviewed By Rachel