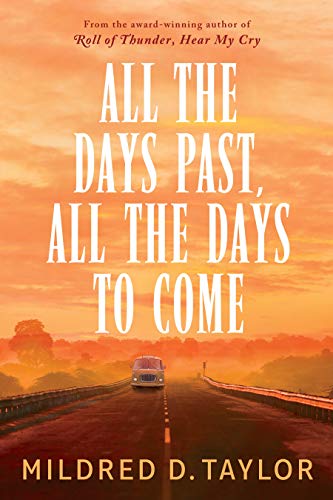 Publisher's Note:
The saga of the Logan family--made famous in the Newbery Medal-winning Roll of Thunder, Hear My Cry--concludes in a long-awaited and deeply fulfilling story.

In her tenth book, Mildred Taylor completes her sweeping saga about the Logan family of Mississippi, which is also the story of the civil rights movement in America of the 20th century. Cassie Logan, first met in Song of the Trees and Roll of Thunder, Hear My Cry, is a young woman now, searching for her place in the world, a journey that takes her from Toledo to California, to law school in Boston, and, ultimately, in the 60s, home to Mississippi
to participate in voter registration. She is witness to the now-historic events of the century: the Great Migration north, the rise of the civil rights movement, preceded and precipitated by the racist society of America, and the often violent confrontations that brought about change. Rich, compelling storytelling is Ms. Taylor's hallmark, and she fulfills expectations as she brings to a close the stirring family story that has absorbed her for over forty years. It is a story she was born to tell
This book was sent to Compass Book Ratings for review by Viking
All The Days Past, All The Days To Come
by Mildred D. Taylor
Overall Review:
All the Days Past, All the Days to Come is the tenth and final book in the Logan Family saga. Written by award-winning author Mildred D. Taylor, this character-driven novel is a beautiful tribute to love, life, and family. All the Days Past provides readers with a front row seat to the tumultuous American civil rights movement. Heroine Cassie experiences love and loss, maturing as a character and narrator. Taylor writes with vivid detail, a good amount of foreshadowing, and sprinkles real figures throughout this historical fiction. While the book is just shy of 500 pages, the pacing keeps the plot moving quickly. Taylor's work is a powerful read that will stir up a lot of emotions with so much racial discrimination and injustice. Despite being the conclusion of an epic saga, All the Days Past, All the Days to Come can be read as a stand-alone novel.
Review of an Advance Reading Copy
Content Analysis:
Profanity/Language: 13 religious exclamations; 14 mild obscenities; 14 derogatory names; 1 scatological word.
Violence/Gore: Several verbal threats; frequent secondhand reports of violence include fistfights, assassinations of civil rights leaders, characters killed in war, people shot, beaten, and lit on fire, cars forced off the road resulting in crashes and death, a woman forcibly removed from a doctor's office, people pepper-sprayed and attacked with paint, Freedom Riders beaten by crowds. A few brief scenes of violence including Freedom Riders being beaten by a mob, characters shot at while driving, and characters attacked by police. Destruction of property with no casualties when a church is set on fire in a brief scene. A brief, non-detailed scene of violent death occurs when a character drowns.
Sex/Nudity: Multiple incidents of kissing; several sexual references including a woman being propositioned, an alluded report of rape, individuals are described as mixed race because of slavery, a woman is invited to stay at a man's place; several implied or reports incidents of sexual activity include masters having intimate relations/raping their slaves; several mature discussions regarding sex between adults.
Mature Subject Matter:
Death of family members and friends, civil rights, discrimination, sit-ins, riots, Freedom Riders, slavery, Jim Crow, physical assault, arrests and serving jail time, drowning, war and the draft, arson, miscarriage, divorce, Emmett Till, NAACP, hooded riders, fear of extradition, Black Muslims, dating someone of a different race, stroke, cancer.
Alcohol / Drug Use:
Several characters drink and/or smoke. Drinking occurs at a party.
Reviewed By Rachel