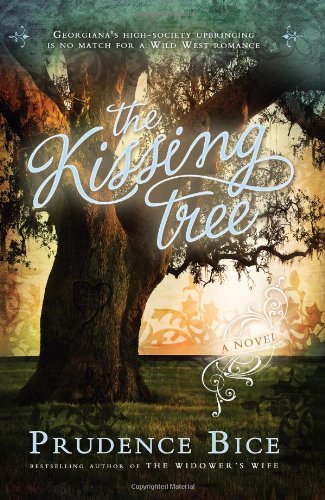 Publisher's Note:
After five long years, Georgiana McLaughlin returns to the only place she s ever considered home---the same place she stole a kiss from Ridge Carson under the kissing tree; But this time he's a man, and reconciling their past is just the beginning. You'll find yourself applauding each new chapter filled with fun, romance, and adventure in this captivating, heartfelt tale of love, friendship, and finding your way back.
This book was sent to Compass Book Ratings for review by Cedar Fort
The Kissing Tree
by Prudence Bice
Overall Review:
In The Kissing Tree Georgiana is forced to discover herself as she must make the choice between being a country maiden, or a high society New Yorker. Her aunt would cringe if she knew how many social rules Georgiana broke, but readers will enjoy her slight deviances from the proper way of doing things. Other characters in the book are also forced to make choices based on their goals in life--money, city life, justice, a rekindling of friendship, and the heart of the woman who captured his heart a long time ago. Georgiana's red-hot Irish temper heats up her romantic relations and leaves readers grinning at the sting of some witty replies. Her temper also brings in suspense as she tangles with the wrong people. When put to the test, however, she ultimately stands up for what she believes in. Adults and young adults who want to believe in the magic of a wild west romance will enjoy this powerful read of self discovery and love by Prudence Bice.
Content Analysis:
Profanity/Language:
***
Violence/Gore: A girl's braids are tied to railing; two people are kidnapped; two characters are shot; one man is killed.
Sex/Nudity: Several kisses on neck; summersault in dress revealing immodesty; a man sees a woman in underclothes; a man holds a woman several times; a couple kisses many times; a man does up the back of a dress of a woman he hardly knows; scene of attempted rape; child out of wedlock.
Mature Subject Matter:
Death; separation; unwanted pregnancy; abandonment.
Alcohol / Drug Use:
***
Reviewed By Megan