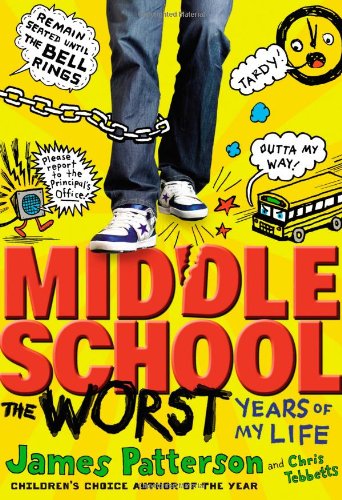 Publisher's Note:
Rafe Khatchadorian has enough problems at home without throwing his first year of middle school into the mix. Luckily, he's got an ace plan for the best year ever, if only he can pull it off: With his best friend Leonardo the Silent awarding him points, Rafe tries to break every rule in his school's oppressive Code of Conduct. Chewing gum in class-5,000 points! Running in the hallway-10,000 points! Pulling the fire alarm-50,000 points! But when Rafe's game starts to catch up with him, he'll have to decide if winning is all that matters, or if he's finally ready to face the rules, bullies, and truths he's been avoiding.

Blockbuster author James Patterson delivers a genuinely hilarious-and surprisingly poignant-story of a wildly imaginative, one-of-kind kid that you won't soon forget.
Middle School, the Worst Years of My Life
by James Patterson & Chris Tebbetts
Overall Review:
Written by the prolific James Patterson in conjunction with Chris Tebbetts, Middle School, the Worst Years of My Life jumps on the band wagon spawned by Diary of a Wimpy Kid and continued in the series Big Nate. It is a mash-up of text with cartoon drawings that elementary and middle students find so compelling. From a literary standpoint, I am not a big fan of this fad. Tthe writing at the beginning felt forced as it attempted to capture the voice and venacular of modern, middle-grade students. Although later in the book, the narrative voice did smooth out. The redeeming point of this book is its themes and the creation of a character who is truly unique: an artistic and lonely boy with some deep-rooted emotional issues. The main character, Rafe, is not a hero, but may be very relatable to kids who needed a literary character they can connect with. Also, there was an unforeseen twist that was a nice touch. Parents will hate the premise (a quest to break every rule in the school handbook), but young readers will enjoy this book.
Content Analysis:
Profanity/Language: None
Violence/Gore: Bully pushes a character against a wall; character fantasizes about slaying dragons (with green blood); a character verbally threatens another character; an adult pushes another adult resulting in minor injury; a child pushes an adult; two students fist fight/wrestle resulting in minor injuries and a bloody nose; report of a death many years ago.
Sex/Nudity: A boy likes a girl and thinks she is cute; a character streaks in public wearing only boxers.
Mature Subject Matter:
Pervasive Juvenile Deliquency, Death of a Family Member, Mental Health Issues
Alcohol / Drug Use:
***
Reviewed By Cindy