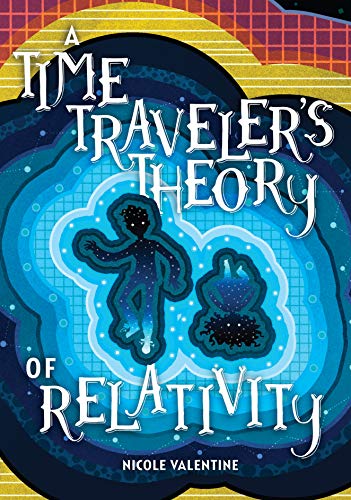 Publisher's Note:
He believes in science, but only magic can help his mom.
Twelve-year-old Finn is used to people in his family disappearing. His twin sister, Faith, drowned when they were three years old. A few months ago, his mom abandoned him and his dad with no explanation. Finn clings to the concrete facts in his physics books?and to his best friend, Gabi?to ward off his sadness. But then his grandmother tells him a secret: the women in their family are Travelers, able to move back and forth in time. Finn's mom is trapped somewhere in the timeline, and she's left Finn a portal to find her. But to succeed, he'll have to put his trust in something bigger than logic.
This book was sent to Compass Book Ratings for review by Carolrhoda Books
A Time Traveler's Theory of Relativity
by Nicole Valentine
Overall Review:
A Time Traveler's Theory of Relativity is Nicoles Valentine's debut novel but you'd never guess it. Clearly, she did extensive research because her attention to detail and accuracy is phenomenal. The ever-changing characters she created kept you on your toes: who were the good guys, who were the bad guys, and when might that change. You'll love that she shows these characters and situations from different perspectives, allowing you to understand the character's reasoning behind their actions. The bonds of family and friendship the characters build in this story are admirable and inspiring. Besides being an uplifting read, you'll also find that the story gets pretty intense a few times, propelling you through the pages. A delightful story, appropriate and entertaining for all, I highly recommend A Time Traveler's Theory of Relativity.
Content Analysis:
Profanity/Language: None
Violence/Gore: Many (25) brief incidents including character dreaming about getting hurt; metaphors and similes comparing something non-violent to something violent; character worrying neck will snap in two; gun aimed at characters; character thought he would be ripped in half; character worried that another died; attempted kidnapping; knife at character's throat; planning to kill; reference to insects dying and female insects eating male insects; a few references to death; character could die; reference to serial killers; characters see a dead animal carcass; reference to murder; second-hand report of cities burning; character looking through death records; character throws another causing a cracked rib; young character falls into a lake; character tortured (no detail) then thrown to the ground and left unconscious.
Sex/Nudity: One incident of a young character thinking grandma has a boyfriend stay overnight.
Mature Subject Matter:
Murder; death; attempted kidnapping.
Alcohol / Drug Use:
None
Reviewed By Jenny