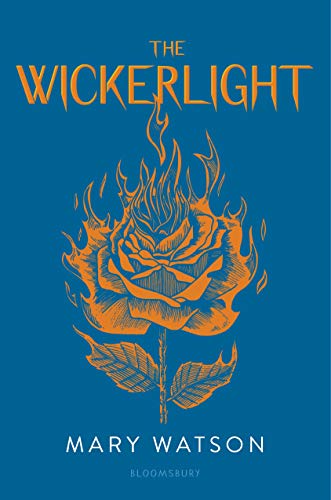 Publisher's Note:
In this lush, magical thriller for fans of the Raven Cycle and The Hazel Wood, one girl's murder investigation leads her into an ancient magical war.
It's been two months since Zara's sister Laila was found lifeless on the village green of the small Irish town Kilshamble, not a mark on her. Vicious rumors circle that she died of an overdose or committed suicide--but an autopsy finds no evidence.
Zara believes somebody must know what happened, and she throws herself headfirst into an investigation. But retracing her sister's footsteps takes her to David, a member of an ancient magical faction called the judges. The judges are in the midst of an ancient feud with another faction called the augurs, and Zara quickly finds herself embroiled in a dangerous, twisted game. And if she isn't careful on the path she's treading, she could end up with the same fate as Laila.
Riveting, atmospheric, and full of dangerous magic, this lyrical novel set in the world of The Wren Hunt is perfect for readers of Maggie Stiefvater and Melissa Albert.
This book was sent to Compass Book Ratings for review by Bloomsbury USA
The Wickerlight
by Mary Watson
Overall Review:
The Wickerlight is the second in the series by Mary Watson. The first book, The Wren Hunt, introduced us to a cast of characters and an environment of old-world druid style magic in modern day times. This book continues the war between the augers and judges and introduces new characters to the mix.
To start, if you were expecting this book to pick up the story of Tarc and Wren and continue with their journeys, you will be sorely disappointed. In fact, Tarc and Wren are more passing commentary in this book then they are main characters. Wren makes a brief appearance in the beginning, is glancing mentioned as having taken a trip in the middle, and then another brief appearance, literally a page, at the end. Instead, this book focuses on David and introduces new characters that were not in the first book.
The set-up of this book is also quite different from the first. While the first is written largely from one perspective, this book goes back and forth between the perspectives of Zara and David. Every other chapter is devoted to the switched perspective. I will say that the author does a good job with the back and forth. It was very easy to tell from whose perspective I was reading even if I didn't catch the name at the beginning of the chapter. And it didn't seem choppy and flowed very well. It also didn't do a ton of repetition like point of view novels can do and I certainly appreciated that.
The simple magic remains throughout this novel. A bit more color is given to the different abilities of the judges, which was nice since the first book focused its energy a bit more on the auger's skills. We were also introduced to how the judges view and meet out punishment and the open item of the top warrior of the judges was resolved.
I was disappointed that this book wasn't a direct continuation. In fact, you could pick up this new novel and not be at a loss if you haven't read the first in the series. Overall, it's a good read, but not as good as the first.
Content Analysis:
Profanity/Language: 5 religious exclamations; 18 mild obscenities; 1 religious profanity; 7 derogatory names; 15 scatological words; 6 anatomical terms; 15 f-word derivatives.
Violence/Gore: Report of suspected suicide; two instances of objects being thrown at person or across room; punch to face; gouges carved into wall; two instances of recalling kidnapping instance with minimal detail; minor cuts/scrapes/bruises; 2 page confrontation between teens with hair pulling, verbal threats, and threats with knife; character is cut repeatedly with poisoned blades; shoved against wall and ground; multiple verbal threats; two depictions of blood being used in rituals; three threats with knives; recall of a mink killing chickens with bloody carnage depicted; dead birds found hanging from trees; house graffitied and burned (not completely destroyed); 2 page knife fight with bloody injuries; vision of bodies of murdered people; 2 page hand to hand combat battle; girl is kidnapped; 2 instances of three page bloody war battle with bloody injuries; torture room has nails in floor to inflict pain; stab to leg.
Sex/Nudity: Males bare chested; 6 instances of kissing; 3 instances of hand-holding; boy's head in girl's lap; references to infidelity.
Mature Subject Matter:
Racial conflict, death of family member, suicide, war, divorce, marriage infidelity, murder, stealing, property damage.
Alcohol / Drug Use:
Adults drink wine and alcohol; adults and teens smoke; reference to use of drugs.
Reviewed By Beckie