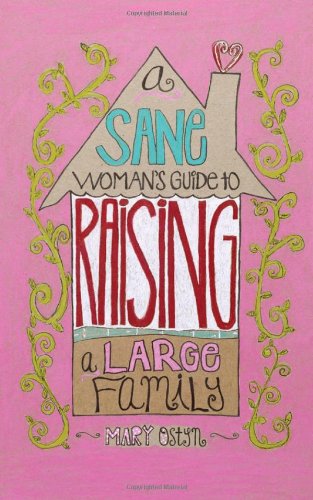 Publisher's Note:
A SANE WOMAN'S GUIDE TO RAISING A LARGE FAMILY is written from the practical, experienced perspective of a mother of ten and has thoughtful, helpful answers to important questions, such as:
Can a mother meet the needs of multiple children without drowning in sheer neediness?
How can a moderate income stretch to include more children?
How can you make space in your home work for you?
What are some ideas for handling mountains of laundry?
How can you preserve time for yourself and your marriage?
How can you manage multiple children and their activities?
This book was sent to Compass Book Ratings for review by Gibbs Smith
A Sane Woman's Guide to Raising a Large Family
by Mary Ostyn
Overall Review:
For years I have been thinking that I should write down some of the wisdom I have gained after years of trial and error motherhood. Afterall, I wouldn't want my posterity to learn everything the hard way. Now that I've discovered this book I don't have to. A Sane Woman's Guide to Raising a Large Family covers much of what I myself have learned and beyond. A mother of ten children, Mary Ostyn writes about everthing from creative ways to find space in your home to how to avoid the guilt and headaches that can surround multiple children's activities.
Whether you have one child, and are thinking of another, or have ten children and are still planning for more, Ostyn's practical approach to motherhood is a must read. Her solutions to the challenges that mothers face every day range from the familiar to the wildly creative and back again. Some parenting books have a tendency to overwhelm the reader with information and lists of do's and do not's, this guide is different. It is well organized and concise making it an enjoyable read that encourages you to get creative with your crew however many that might be.
Content Analysis:
Profanity/Language: None
Violence/Gore: None
Sex/Nudity: None
Mature Subject Matter:
***
Alcohol / Drug Use:
***
Reviewed By Ambra