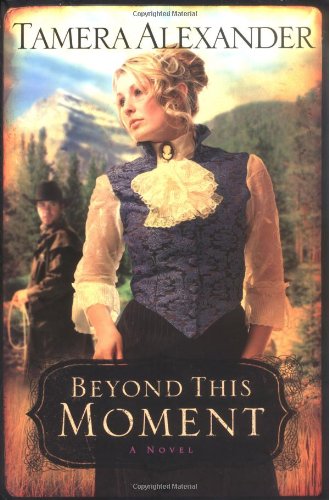 Publisher's Note:
Dismissed from the university where she served as Professor of Romantic Languages, Dr. Molly Whitcomb travels west to start over in the secluded mountain town of Timber Ridge, Colorado, where she'll be teaching children. Her train stops in Denver, and on a whim, Molly purchases a wedding band--an attempt to cover a mistake, but also a chance at a fresh start. Sheriff James McPherson was eager to hire a schoolteacher, but Dr. Molly Whitcomb isn't what he expected. His instincts about people--which rarely miss the mark--tell him she's hiding something. And when Molly's secret is revealed, her reinvented life begins to unravel. What's more, she risks losing her newfound relationship with the sheriff and her renewed faith in God.
Beyond This Moment
by Tamera Alexander
Overall Review:
Tamera Alexander transports readers to the heart of the Colorado Rockies with her vivid and realistic descriptions. This second book in the Timber Ridge Reflections series masterfully contrasts incredible scenery with heart-wrenching human drama. Each character's personality traits are carefully developed and support the progress of the plot. A steady paced offering from a trusted author., one feels compelled to contemplate his own choices in life and their effects on others.
Content Analysis:
Profanity/Language: None
Violence/Gore: Characters reported to have scuffled and broken items; Characters were beaten; One character shoots another; Characters have a fight involving a knife; Character breaks another's bone; Character threatens to break someone's bone; Character has a head wound and blood is mentioned.
Sex/Nudity: Unmarried characters kiss, hug, hold hands, walk arm in arm and caress each other's cheeks; Character deliberately brushes arm against another's breast; Unmarried characters are reported to have spent a night together (no details).
Mature Subject Matter:
Death of family member, racial bias, marital infidelity, illegitimate children, premarital relations, deceit, political corruption.
Alcohol / Drug Use:
Character drinks regularly. Characters spend time consuming alcohol in bars and saloons. Characters reek of alcohol.
Reviewed By Susan