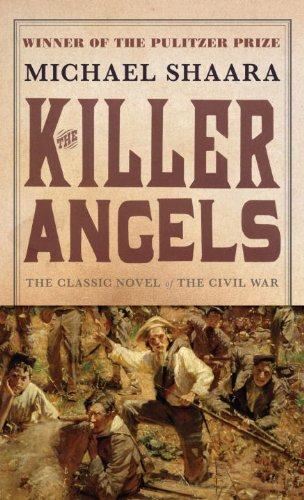 Publisher's Note:
Winner of the Pultizer Prize

In the four most bloody and courageous days of our nation's history, two armies fought for two conflicting dreams. One dreamed of freedom, the other of a way of life. Far more than rifles and bullets were carried into battle. There were memories. There were promises. There was love. And far more than men fell on those Pennsylvania fields. Bright futures, untested innocence, and pristine beauty were also the casualties of war. Michael Shaara's Pulitzer Prize–winning masterpiece is unique, sweeping, unforgettable—the dramatic story of the battleground for America's destiny.
The Killer Angels
by Michael Shaara
Overall Review:
The Killer Angels by Michael Shaara is the Pulitzer Prize winning narrative of what may be the three most important days of the U.S. Civil War. Shaara describes the battle of Gettysburg through the eyes of those who were there; among them are Robert E. Lee, General Longstreet, and Colonel Chamberlain. From Shaara's extensive research, he creates dialogue and interpersonal thoughts of each of these historical figures which leads to a first person narrative that captures the battle of Gettysburg like no history book could. The detailed events of those bloody days are vivid and make history come alive but where the story really shines is in the personal sentiments and relationships of the characters. The motivations, mistakes, loyalties, doubts, duties, and personalities of all those long dead become mesmerizing and interesting. It almost seems like Shaara met each one personally. This book is fascinating on many levels--it's entertaining, insightful, and educational. In a note to the reader, Shaara pleads for forgiveness about the creative liberties he took while writing this novel, thus making the book fiction. Forgiveness granted. Excellent book, I highly recommend it!
Content Analysis:
Profanity/Language: 50 religious exclamations; 51 mild obscenities; 14 religious profanities; 2 derogatory names.
Violence/Gore: Reference to shooting mutineers; second hand stories of duels; few scenes with detailed deaths of men in war describing wounds received; few references to piles of dead horses and amputated limbs of soldiers; several references to wounds (not resulting in death) received, some graphic in nature involving blood and broken bones; few extended scenes graphically describing the intense battles of Gettysburg; extended scenes of the aftermath of war including wounded, gathering and burying of the dead, destruction of property.
Sex/Nudity:Few references to wives back home (romantic in nature).
Mature Subject Matter:
Death of child, death of family members, war, aftermath of war, slavery.
Alcohol / Drug Use:
Soldiers smoke cigars and drink whiskey.
Reviewed By Matthew