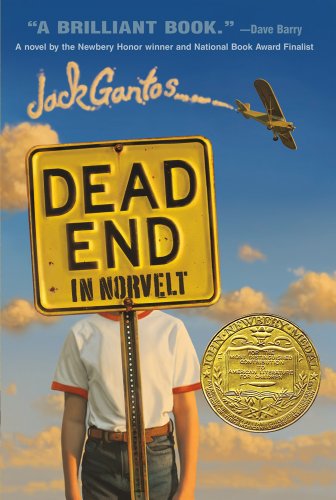 Publisher's Note:
Dead End in Norvelt is the winner of the 2012 Newbery Medal for the year's best contribution to children's literature and the Scott O'Dell Award for Historical Fiction!
Melding the entirely true and the wildly fictional, Dead End in Norvelt is a novel about an incredible two months for a kid named Jack Gantos, whose plans for vacation excitement are shot down when he is "grounded for life" by his feuding parents, and whose nose spews bad blood at every little shock he gets. But plenty of excitement (and shocks) are coming Jack's way once his mom loans him out to help a fiesty old neighbor with a most unusual chore—typewriting obituaries filled with stories about the people who founded his utopian town. As one obituary leads to another, Jack is launced on a strange adventure involving molten wax, Eleanor Roosevelt, twisted promises, a homemade airplane, Girl Scout cookies, a man on a trike, a dancing plague, voices from the past, Hells Angels . . . and possibly murder. Endlessly surprising, this sly, sharp-edged narrative is the author at his very best, making readers laugh out loud at the most unexpected things in a dead-funny depiction of growing up in a slightly off-kilter place where the past is present, the present is confusing, and the future is completely up in the air.
Dead End in Norvelt
by Jack Gantos
Overall Review:
This year's Newbery Award Winner is a strange, quirky adventure in the sleepy 1960s town of Norvelt, Pensylvannia—a dying "Eleanor Roosevelt" town created decades before by the former First Lady as a place for down-and-out Americans to be able to have a home of their own. The story follows the unusual escapades of preteen Jack Gantos, grounded for the whole summer. Dead End in Norvelt is a blend of the odd, the macabre, and the heartwarming. I have to admit that I didn't love the book as much as the Newbery committees obviously did; it took me a long time to feel like I connected with Jack at all, and I wasn't overly fond of the continual macabre focus on death. By the time the book ended, however, I was entertained and even a little touched by the way it all wrapped up. One thing is for certain: Dead End in Norvelt isn't quite like any book I've read before!
Content Analysis:
Profanity/Language: 6 religious exclamations; 3 mild profanities.
There were 8 instances of a character's invented slang--created to substitue for a religious exclamation (a boy repeatedly exclaims "Cheeze-us-crust"!). There are several (10-15) references to the Hells Angels motorcycle gang, which were not tallied as mild profanities.
Violence/Gore: A boy watches war movies and plays with war memorabilia. A boy shoots a gun (nobody is hurt). A story is told about an Indian scalping (the story is told humorously and without violent detail). A character "cooks" their hands in hot wax to help with arthritis (another character is very disturbed on seeing this for the first time, and the scene is a little gruesome/macabre in a madcap way). One character is the child of a mortician and often tries to scare her friends by describing the cadavers. Throughout the story there are several obituaries read. A character reads history books that include a lot of violent/gory stories. A character (who you don't meet or know anything about prior to his death) is found run over by a truck, apparently "smashed flat," and one child describes to another in fairly gruesome detail what his body looks like. A series of fires (arson) are set in the town, and a group of people make threats against people in the town. A character threatens a boy. There are rumors of murders. Two scenes involve hunting and/or poaching. A woman is found to be poisoned.
Sex/Nudity: Characters flirt; a boy thinks that a girl is pretty and that he "likes" her.
Mature Subject Matter:
Death, parental conflict, murder. A few brief references are made to the Hells Angels being devil worshippers.
Alcohol / Drug Use:
A kid smokes a cigarette.
Reviewed By CindyB