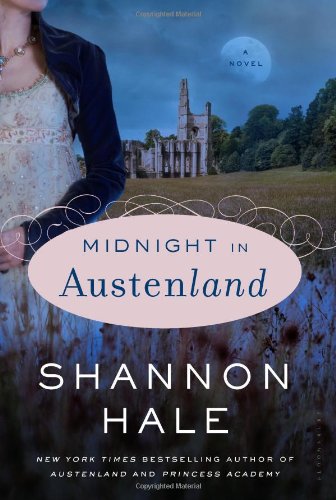 Publisher's Note:
When Charlotte Kinder treats herself to a two-week vacation at Austenland, she happily leaves behind her ex-husband and his delightful new wife, her ever-grateful children, and all the rest of her real life in America. She dons a bonnet and stays at a country manor house that provides an immersive Austen experience, complete with gentleman actors who cater to the guests' Austen fantasies.
Everyone at Pembrook Park is playing a role, but increasingly, Charlotte isn't sure where roles end and reality begins. And as the parlor games turn a little bit menacing, she finds she needs more than a good corset to keep herself safe. Is the brooding Mr. Mallery as sinister as he seems? What is Miss Gardenside's mysterious ailment? Was that an actual dead body in the secret attic room? And-perhaps of the most lasting importance-could the stirrings in Charlotte's heart be a sign of real-life love?
The follow-up to reader favorite Austenland provides the same perfectly plotted pleasures, with a feisty new heroine, plenty of fresh and frightening twists, and the possibility of a romance that might just go beyond the proper bounds of Austen's world. How could it not turn out right in the end?
Midnight in Austenland
by Shannon Hale
Overall Review:
After reading and really enjoying Austenland, I was anxious to read Midnight in Austenland, which took place in the same location as Austenland, but with different characters. It proved to be another fun, modern story where characters were able to escape their normal, everyday lives for a few weeks to become a character in a Jane Austen novel. Charlotte Kinder, the protagonist, reads her first Jane Austen novel and finds herself engrossed in the stories. She decides to take a much needed vacation and is surprised to discover Austenland. Charlotte, who becomes Mrs.Cordial, a widowed mother, initially has a difficult time immersing herself in the experience. With the help of some of the other characters she finally lets go to fully involve herself in her new life--maybe a little too much. Midnight in Austenland would be an enjoyable read for anyone who likes a romance intertwined with a murder mystery.
Content Analysis:
Profanity/Language: 2 mild obscenities; 1 derogatory name; 2 anatomical terms.
Violence/Gore: Few (8) instances including but not limited to a character being threatened with a knife; a character being choked; a house fire; an attempted murder; a murder. One extended instance of death and ghosts.
Sex/Nudity: Many (40) instances including but not limited to holding hands; kissing; hugging; walking arm in arm; cleavage; sexual innuendo; character says someone's name sounds like a stripper; meaningless sex (only mentioned); a gift is received and mistakenly thought to be a vibrator.
Mature Subject Matter:
Drug addiction and recovery; drunk driving.
Alcohol / Drug Use:
Drunk driving; adults drinking alcohol; drug addiction and withdrawals from quitting.
Reviewed By Jenny